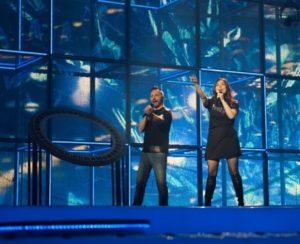 Romania is represented by Paula and Ovi this year. They are both multi-talented musicians, producers and performers. They previously represented Romania in the Eurovision Song Contest back in 2010 when they achieved a very respectable third place. One would imagine they hope to finish a couple of places higher on the leader board this year.
The song starts with the stage lit in a sea of blue. Ovi sings middle stage and there follows a cut to Paula, who appears to be standing at some distance from the stage. She is dressed in a glittering blue strapless dress, but it soon becomes apparent that this is only an 'illusion' of Paula; her image fades away and, 'miraculously', she is instead found on stage, in casual rehearsal clothes, approaching Ovi. Apart from this early visual special effect, there is also Ovi playing through the centre of a fully circular set of keyboards, a gimmick that is well received with laughter in the press centre.
Ovi and Paula's vocal performance is good. Paula, in particular, manages to hit her high note towards the end of the song time after time. Being Eurovision veterans, the duo appears really relaxed albeit just a little static at times. The lighting remains predominantly blue with stars and comets glittering in the background wall; there are also touches of gold used later in the form of butterflies and a big heart forming right in the middle of the background projection. There is a beautiful overhead camera shot of Ovi playing through the opening of his keyboard ring and, at the same time, encircled by an even larger keyboard ring projected on the stage floor. The same impression of a circular keyboard is also shown on the background wall as well as two large square projections of Paula. Touches of pink and purple are added towards the end before the lighting changes into bright white for the finale of the song: a shot of Ovi and Paula standing side by side. This is a good performance with some impressive presentational features but perhaps lacking cohesion here and there.