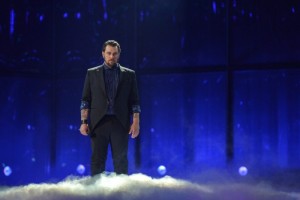 Norwegian Carl Espen is another of the favourites to lift the title this year and being sandwiched between uptempo acts from both Israel and Georgia should provide an excellent contrast for his Silent Storm. His previous performances have been hit and miss so would he convince today once and for all?
Four female violinists dressed in blue and white dresses join Carl Espen on stage atop a glittering raised tilted platform. Four single beams shine down over them. Carl Espen took to the stage sporting a smart, black jacket over a blue shirt with blue jeans, his tattoos just showing. With him on stage he also had a pianist seated at a black grand piano.
The stage floor is covered with dry ice which comes and goes and which helps build a dramatic atmsophere. The backdrop features waves crashing, a reference to the title Silent Storm. A number of rays fan out upwards from the floor behind Carl Espen, which looks striking set against the deep blue of the backdrop.
Vocally, Carl Espen delivered a solid first rehearsal. His voice started off a little thin and wavering in the first run through, but his confidence grew steadily as the number progressed resulting in a moving vocal performance, filled with longing and melancholy. The staging begins with a shot of the pianist playing before it moves over to Carl Espen. Aerial shots of the stage floor reveal a white and black shattered effect. Subsequent run throughs showed a reliable vocal, able to convey much emotion.
The camera close ups of Carl Espen show that he is slightly nervous on the first two run throughs – he looks tense and really needs to relax more on camera. By the final run through he nailed it completely. People watching suggested that he needed to cheer up and smile more, but on the contrary, that just wouldn't suit the overall mood of Silent Storm. Other vicious tongues would have it that Carl Espen could be the shock non qualifier of the evening, but team Norway shouldn't have any worries there. A positive, encouraging set of first rehearsals that Carl Espen should be really pleased with – it was certainly well appreciated in the press centre.