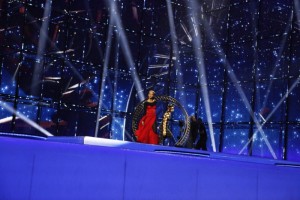 The clocks have started ticking as Ukraine's Mariya Yaremchuk takes to the stage for her first rehearsal of Tick-tock. Ukraine never fail to disappoint with original staging every time – what will they come up with this year to top last year's giant? 
Ukraine and Mariya's stage show is dominated by a giant version of a hamster wheel centre stage with a rather lithe young man running around and doing all manner of clever acrobatics inside of it to great effect. The stage floor has all kind of imagery projected onto it, but the one that made the biggest impression was the night sky with stars when seen from aerial shots. The stage background shows some images of clocks and cog wheels fitting in nicely with the song title. 
Mariya is confident, giving quite the vampish rendition of her Tick-Tock on stage. She looks every bit the femme fatale, sporting a simple long sleeved black top with a red dress over it. The red dress consists of a corset with broad sections of fabric that flap about once the wind machine comes into play. She stands at the side of the wheel, singing to the man insidea, andt one point also climbs up the side of the wheel, putting it to great use. 
Her vocals are consistently spot on and her presentation is flawless – she gives off an incredible energy and attacks the song with astounding gusto which may give her the edge on the night, sandwiched between two ballads. There are some fantastic camera shots of her which will definitely engage the viewers at home. This was an entry that intially came across as rather lacklustre in its music video but which bursts into life on stage.