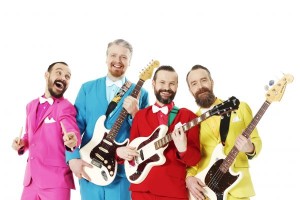 Colourful punk pop against prejudice was the Icelandic option on the menu today. The preview video to Pollapönk was vibrant and playful with a positive message – would the fab four manage to convey the same feelings of positivity with their first rehearsal today?
The stage floor for Pollapönk is black and white checks with white rays lighting up from behind. A number of mutlicoloured framres form what look like building blocks which swiftly dissappear as a multitude of balloons appear. 
The four official band members are sporting their trademark colourful tracksuits with two bearded male backing singers dressed in vibrant colours behind them. The first two run throughs were generally quite stiff looking when compared to the music video. All four members have fantastic chemistry on stage and the almost child like enthusiasm was clearly evident as they urged for people to join in with hand clapping and arms in the air. A nice touch is when the four band members spell out the word love with their arms as the climax of the song.
The vocals were sounding steady and assured during the first two rehearsals but by the third and fourth run throughs were sounding quite flat, shouty and tired in places. The first two run throughs must have helped because all four seemed to thaw up considerably towards the end of their slot. The energy on stage is fantastic and they genuinely appear to be enjoying themselves in front of the caerma, as the twinkle in their eyes seems to have returned. All in all this is a competent first rehearsal with plenty to work on. There is however a clear need for improvement if this is to make the grade and help take down the barriers that may make many viewers prejudiced against their act.