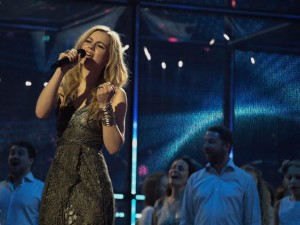 Today is a day of firsts. Excitement and anticipation is building here on Eurovision Island today, as the sixteen acts of the first semi take to the stage for their dress rehearsal. We will also get to see the highly innovative postcards for each country after Friday's sneak peak. 
EuroVisionary will upload 2D as well as 3D videos from this dress rehearsal. Subscribe to us on YouTube to get them as soon as they come in. Pictures will become available in an image gallery here on EuroVisionary, but also on our Instagram profile.
Each of the three dress rehearsals for the three live shows will be covered by individual writers. This gives you the best opportunity to get the widest spread of opinions.  
We are greeted to a montage of highlights from last year's contest leading up to the victory of Emmelie De Forest. We then see the reigning winner walk through various Danish landscapes as a camera follows her. A final shot of Emmelie leads to an introduction of the virtuall choir sequence leading all eyes to Copenhagen. Emmelie de Forest is then centre stage giving an abridged reprise of Only Teardrops with a number of singers on stage as well as the stage wall behind her covered with images of the virtual choir members.
It was then time for hosts Lise Rønne, Nikolaj Koppel and Pilou Asbæk to take to the stage. A rather odd and lengthy pause arose as the hosts failed to come on following the announcement, presumably due to some technical hitch. The whole sequence had to be run again. Lise was dressed in a stunning white creation sporting a huge white flower covering one shoulder. Her male cohorts were dressed in smart dark suits and white shirts, Nikolaj also wearing a tie.
01. Armenia: Aram Mp3 – Not Alone
We see Aram at work in a jewellers workshop and embroidering to produce the armenian flag. He was wearing a long blue/black trenchcoat over a blue polo neck and sweater as he stood in fron of the galaxy backdrop. Aram made ample connection with the camera during the build up of his song. A flash of pyros appeared at the edge of the stage towards the end of the song. His vocals were really on form today. Raw and full of emotion. 
02. Latvia: Aarzemnieki – Cake to Bake
We saw Aarzemnieki hard at work in the kitchen making the latvian flag from a cake. Joran started off by walking down one of the catwalks with his guitarist, sporting a white shirt and green pants before joining the other two members. Joran's vocals were quite variable, but all four members really gave their all and looked as if they were having the time of their lives up there singing this jaunty, sweet little ditty. There best performance so far.
03. Estonia: Tanja – Amazing
Estonian Tanja takes us to a goods terminal at the harbour where she makes the estonian flag out of huge transportation crates. An aerial shot of ther stage saw Tanja lying on the floor with her dancer before she launched into her breathtaking routine. She had the moves perfected and her vocals were also highly impressive. The whole package came across brilliantly on screen, despite her lack of connection with the camera. 
04. Sweden: Sanna Nielsen – Undo
Fan favourite Sanna Nielsen took us poolside where she blew up a number of yellow airbeds which she then set afloat in a swimming pool to form her national flag. Sanna was wearing her sheer black lacy dress seen in her årevious rehearsal. As expected, she gave a flawless vocal performance throughout – this, coupled with a stark, visually impacting light show on stage must make this one of the biggest candidates to qualify.    
05. Iceland: Pollapönk – No Prejudice
The crazy members of Pollapönk took is to the Icelandic wilderness where they created their flag by projections onto a waterfall. As we've come to see, they were wearing their bright and brash suits today also. The backdrop looked as if inspired by Candy Crush Saga before changing to vivid geometrical montages. The guys gave a spirited, energetic performance but vocals were almost shouted today. When they spell out the letters to make out the word LOVE at the end of the act, it is so effective. 
06. Albania: Hersi – One Night's Anger
Albania's Hersi takes is to a tattoo parlour, where sher gets the albanian doubler headed eagle tattooed onto her back and a picture is taken through a red piece of cellophane. She is wearing the same lacy beige and gold dress as seen in her rehearsal. She turns in an inspired vocal of this challenging song, with some beautiful harmonies together with her backing singers. A fragile yet strong effort from Albania. 
7. Russia: Tolmachevy Sisters – Shine
The russian Twins take us to a darkened room filled with LED lights used to form their flag. They were once again wearing their cream coloured outfits atop the see saw on stage. Their interwoven long hair looks very strange indeed. A slick and imaginative stage presentation together with a gutsy vocal performance from the two indicates that Russia should have a good chance of qualification. 
08. Azerbaijan: Dilara Kazimova – Start a Fire
Dilara used an LED light wand to create her national flag on a balcony overlooking a nightime Baku. She was wearing her stunning red dress with the plunging backdrop. Dilara has previously impressed with some stunning vocals, but there were actually a few duff notes heard today. The surprisingly simple stage presentation of Azerbaijan is so effective with the trapezist and the cathedral window, and therein lies its brilliance. 
09. Ukraine: Mariya Yaremchuk – Tick Tock
We follow ukranian Mariya to a railway station where she sticks a lot of yellow post it notes at the edge of a platform. A turquoise train pulls in and that's when she shoots a picture of the flag. Mariya is sporting a flowing black dress with black leatherlike bodice on stage today. She looks such a vamp as she pouts and poses in front of the man running inside the wheel. Her attentions soon turn to him as she produces a visually dazzling routine together with him. Her vocal efforts today were powerful and convincing and she manages to lift this rather inane text and melody. 
10. Belgium: Axel Hirsoux – Mother
Axel from Belgium takes us to a launderette where he knits and washed the belgian flag. Axel is once again sporting a tuxedo as he reaches out to the audience in the opening lines of his song. The purple paisley backdrop is used and looks stunning. Axel gives a compelling vocal today, making plenty of contact with the camera and building the intensity of the performance.  
11. Moldova: Cristina Scarlat – Wild Soul
Cristina Scarlat is at work in a pottery making studio where she makes three tall urns to create the molodvan flag and looks very proud of her efforts. We see her flowing blue dress couped with the golden shoulder decoration again and a male dancer suspended horizontally behind her. She rips off her hairpiece during the song which looks quite bizarre indeed. This is the strongest rehearsals we've seen her vocally, as she gave an empassioned performance today. 
12. San Marino: Valentina Monetta – Maybe (Forse)
Valentina Monetta takes us to an airport hangar where her flag is painted onto canvas very accurately. Shots of the giant shell behind Valentina open her act as she stands dressed in a white gown reaching out. She giver her all in singing this whistful, romantic entry and reaches out of the screen to viewers. The change of colour both on the stage floor and the shell looks amazing on screen. This is her strongest and most elegant vocal effort yet. 
13. Portugal: Suzy – Quero Ser Tua
Bubbly Suzy takes us to an empty room where she is seen painting herself in front of a mirror to blend in with the portuguese flag painted on the wall. She is wearing a thigh length sparkly dress with quite a bit of skin showing. Her beige top is covered in what look like rose petals. Her stage act is lively and flirtatious, both in terms of colour and dancing, with the two large drums still kept on stage. her vocals were by and large fine but a little strained in places. She made a great impression on camera though.  
14. The Netherlands: The Common Linnets – Calm After the Storm
Ilse DeLange and Waylon take us on a canal trip through Amsterdam where they create the flag with tulips in the dutch colours. The highly innovative dutch staging of the moving highway on the floor is yet again a pleasure to behold as the two stare intensely at one another while they give a flawless, achingly beautiful rendition of Calm After the Storm that comes across as extremely confident and just has that undefinable quality. 
15. Montenegro: Sergej Ćetković – Moj Svijet
Sergej gets help from two youngsters to create the Montenegrin flag from a jigsaw on top of a grand piano. He is wearing a dark suit set against the blue backdrop of the stage. A female skater comes onto the stage to create dazzling patterns on the stage floor as she skates around. Sergej's warm voice perform this beautiful and classy Balkan ballad so professionally, which should give Montenegro their first ever spot in the final and which got a great reception in the hall.  
16. Hungary: András Kállay-Saunders – Running
András takes us around Hungary where he makes their flag at the side of the Danube out of the hungarian invention the Rubkis' cube. Again, he is wearing a tight fitting black t-shirt when he opens the act sitting. Once he runs down the catwalk and returns to the stage, the female pianist and a male dancer perform their hide and seek routine. András vocals were raw and highly expressive as he sang about the highly controversial topic of abuse on stage.  
The 10 qualifiers: 
I believe the ten qualifiers will be:
Armenia, Estonia, Sweden, Russia, Azerbaijan, Ukraine, Portugal, The Netherlands, Montenegro and Hungary.
EuroVisionary is recording 2D as well as 3D videos from this dress rehearsal. Subscribe to our youtube channel to be kept updated.
This article is based on the writers experience of the dress rehesarsal and does not necessarily express the opinion of EuroVisionary.com.