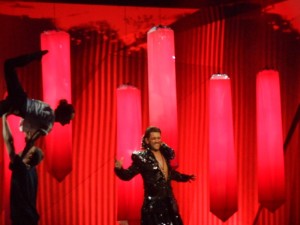 Cezar took to the stage for Romania's second rehearsal of It's My Life. Every gimmick you can imagine was put in to this three minute performance which viewers will surely remember either positively or negatively.
Cezar's fine operatic vocals cannot be doubted and some vocal accompaniment is given by girl backing vocalist at the side and not in view of the cameras.
Cezar is dressed in a long black and glittery cape.  It reminds me of something from the glam rock era or even Elvis Presley's Caesars Palace, Las Vegas days.
He is joined by two male dancers and and a female dancer.  Another female is hidden under a massive large red sheet and she crawls underneath this making wave like effects.  Finally she appears like a ballerina next to Cezar as a platform rises and the costume is even longer.
The lighting is bright with colours of pink, pearl and white.  The show is finished with a full pyrotechnic show.
So can Romania Cezar the moment and qualify?