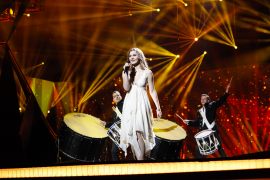 Hot favourite Emmelie de Forest has just finished her second and final rehearsal before the dress rehearsals next week. How have things changed since she took to the stage on Monday?
The press area of the arena was not surprisingly very busy for this rehearsal. As with the other countries, there was time for three run-throughs of the song. The almost-polished performance from Monday would be a hard act to follow.
In general, things did seem to go well. The reds and golds used in the backdrop worked. The sparing use of the wind machine at either end of the song enhanced the overall effect. Even the drummers' careful choreography worked. However, Emmelie's vocal was a little off, and she seemed to be struggling with some of the more challenging parts of the song. In the arena there also seemed to be issues with the backing track being louder than her voice.
By the third run through, things did seem to be getting back on track. The shower of gold pyrotechnics at the end worked as the song moved nicely along to the end.
A few questions may remain over the vocal but the strength of the song may well carry it through next week.