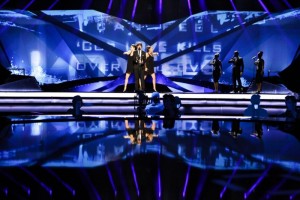 Roberto Bellarosa was on stage this evening to rehearse his entry. Not much has been changed since his rehearsal earlier this week.
Roberto Bellarosa is still standing in the center of the stage accompanied by two dancers and a backing choir. Although some might believe that Roberto should get rid of the microphone stand and move a bit around stage, the beats themselves are enough to make the audience in the arena dancing and jumping during this song. There is no need for Roberto to that himself – the dancers do this very effectively.
Since the first rehearsal the backdrop has been changed a bit. In the beginning and in a few moments during the song it features blue bubbles. During the chorus the lyrics are projected, which makes the message of the song more powerful. 
Roberto delivers a fine performance vocally, however he should show the emotions in the song a bit more to secure the votes from the viewer's around Europe. If he can do that he will qualify for the final.