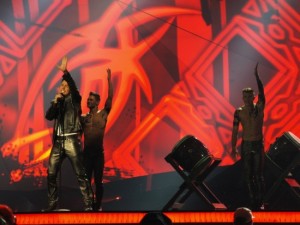 Malmö is in party mode today, eagerly awaiting the winner of this year's contest. With two rehearsals for the final already completed, Eurovisionary was on hand to see just who would impress and who would find themselves on the right hand side of the scoreboard later tonight.
To give you a perspective EuroVisionary will be covering all three rehearsals for the final by three different writers with their respective views on what they see.
01. France: Amandine Bourgeois – L'enfer Et Moi
Amandine Bourgeois provides a cracking opening with her song of revenge for France. She gave a very sensual, smouldering performance with a solid vocal and a simple stage show. Less is definitely more here, as she belts out her number with such soul that even Aretha Franklin would be envious. My prediction : 16-20
02. Lithuania: Andrius Pojavis – Something
Wannabe rock star Andrius takes to the stage amid clapping from the audience and gives a spirited performance of his love song. He is vocally sound, and the song has actually scrubbed up rather well. A static act, but it's not exactly unpleasant to listen to. His pronunciation is still atrocious however. My prediction: 21-26
03. Moldova: Aliona Moon – O Mie
The Moldovan's chances of a top ten placing have never been greater with the songstress Aliona Moon. She has impressed many during her rehearsals both with her staging and voice, and today was no exception for this melodic, wistful ballad. She sang her heart out and makes this a really memorable entry. My prediction: 6-10
04. Finland: Krista Siegfrids – Marry Me
Crazy Krista is up next with her own brand of fun, frolics and feminism. She looked great in front of the camera, having the time of her life and singing confidently. Yet another bouncy, bubbly performance of her bubblegum pop entry Marry Me. This is such a catchy number that Finland could well see themselves heading back into the top 10 this year. My predictio: 6-10
05. Spain: ESDM – Contigo Hasta El Final (With You Until The End)
Trio ESDM take to the stage with their gentle, understated number. Their stage show was bland to see the least, despite a change of tempo. The vocals were rather shaky throughout. The song picks up towards the end, builds momentum but regrettably is just too forgetful to stand out on the night. My prediction: 21-26 
06. Belgium: Roberto Bellarosa – Love Kills
The pressure is lifted from Roberto's shoulders by making it to the final and this showed in his performance, which was confident and accomplished. He surprised many by taking Love Kills to the final, but this has a certain Je Ne Sais Quoi about it. It certainly doesn't lack oomph so this could well be a good year for Belgium. My prediction: 11-15
07. Estonia: Birgit – Et Uus Saaks Alguse
Birgit has the fine art of uplifting balladry down to a tee as she shines on stage with yet another stellar performance of her entry. Understated and beautiful, this was one of the more polished entries of the rehearsal, giving the first gooesbump moment of the day. Singing in Estonian didn't hurt them last year, and hopefully they'll continue the trend this year.
My prediction: 6-11
08. Belarus: Alyona Lanskaya – Solayoh
Blonde temptress Alyona took to the stage after a short delay to make her entrance with her stomper of an entry Solayoh. Vocally, she's never sounded better, and with such demanding choreography, that is no mean feat. She comes across as a little stiff, but gives a spirited performance, cha chaing all over the stage. In the case of Belarus, more is more, with this überkitsch and camp number. My prediction: 16-20 
09. Malta: Gianluca – Tomorrow
If happiness is contagious, then things are looking bright for Malta with this sunny, bubbly and charming entry. Some nice harmonies and the vocals were perfectly acceptable. An enthuiastic and gleeful stage show will certainly have many tapping their feet along. Just watching the performance made me happy. This should be bottled and sold on prescription as an anti depressant. My prediction: 11-15
10. Russia: Dina Garipova – What If
Russia are once more in contention with this simple and elegant ballad by numbers. Young Dina still sings like a dream; the staging is quite over produced in places. It seems a bit calculated both in terms of lyrics and build up of the song, but this will no doubt do very well across the scoreboard. My prediction: 1-5
11. Germany: Cascada – Glorious
Cascada bring their dance act to the stage for Germany and Natty sines in one of the best dresses of the night. Her vocals were off and out of synch in some parts,but on the whole an energetic, fun performance.  This song will have everyone up dancing from east to west. My prediction: 1-5
12. Armenia: Dorians – Lonely Planet
Dorians and Gor Suyjan gave their best in this rendition of the rock number Lonely Planet.The song is rather underwhelming, but his vocals are a great blend of rock with a soulful twist. This was one of the surprise qualifiers from its semi – the song doesn't really build, rather just chugs along and no real atmosphere comes on stage until the pyro effects are used. My prediction: 21-26
13. The Netherlands: Anouk – Birds
The song and voice take centre stage in this moody, brooding, atmospheric ballad. Anouk makes an unusually demure persona where she stands as she warbles her way through Birds. A fantastic vocal performance that should do well with both juries and the general public. This song has the potential to either go massive or bomb completely. I'll plump for the former. My prediction: 1-5
14. Romania: Cezar – It's My Life
Cezar takes camp to another dimension with th stage show to top all stage shows and a peculiar uptempo operatic song of independence. He was both off key and out of time in the first few lines of the song and this just jars in the ears after the first half a minute or so. It didn't work for Sweden in 2009 and it won't work for Romania this year. My prediction: 21-26
15. United Kingdom: Bonnie Tyler – Believe In Me
Breathy Bonnie was up next with one of the most anticipated acts of the rehearsal – she's certainly the biggest name in the line up. A classy, hummable song that's simple enough to stick in the memory. It's nicely sung with her raspy vocals and it's a very credible performance. Could the UK provide us with the suprise of the night? My prediction: 11-15
16. Sweden: Robin Stjernberg – You
Homeboy Robin is on next with his vibrant yodel otherwise known as You. The staging and choreography ofthis one has previously been rather messy, with only passable vocals. Today though, the boy came good and gave a stunning performance, showing why he is a worthy entrant. He certainly won't repeat the disastrous Swedish result from Malmö in 1992. My prediction 6-10
17. Hungary: ByeAlex – Kedvesem (Zoohacker Remix)
ByeAlex sings the Hungarian entry competently as it rolls along. His vocals are alarmingly relaxing, a strange mix of raspiness and almost lullaby like qualitites. Simple staging lets the song speak for itself. This has bags of charm and is definitely one of the dark horses of the contest. 
My prediction: 11-15
18. Denmark: Emmelie de Forest – Only Teardrops
Don't believe the hype – hotly tipped favourite Emmelie does manage to give a dazzling performance on stage, but we've heard this all before. Repetetive, but with a dangerous chorus. Although technically flawless, and perfectly staged, this leaves me cold. I just don't get it. But I'm certain she will do Denmark proudon the night. My prediction: 1-5 
19. Iceland: Eyþór Ingi – Ég Á Líf
This simple, piano led, celtic tinged ballad from Iceland is something of a grower. Eyþór delivers a flawless vocal, but still comes across somehow as rather pompous on stage. Powerful, emotive, the song is rousing and has the potential to do very well. However, I choose to go with past form for my prediction, although I'd love to be proved wrong. My prediction: 16-20
20. Azerbaijan: Farid Mammadov – Hold Me
The Azeris always put a lot of time, money and effort into their entries and this year is no exception. Farid gives a performance and stage show full of wow factor, but it's got to the point where it has become overstaged and this may put people off. Great vocals, but again, there's something calculated and mechanical about this one. My prediction: 6-10 
21. Greece: Koza Mostra feat. Agathon Iakovidis – Alcohol Is Free
The Greek entry is fun, brash and lively. Koza Mostra give a spirited performance with some nice traditional harmonies. This worked very well for Turkey on home turf in 2004 and could well do the same for this proud nation. Although very busy, it does come across very well on screen, so a top ten placing can't be ruled out, but I'm going to go with my instinct on this one. My prediction: 16-20
22. Ukraine: Zlata Ognevich – Gravity
Another fan favourite that is so hyped, it just may come unstuck. The staging borders on the ridiculous and tacky. Zlata is certainly a looker and can deliver vocals wise when needed, but there's something about this song that just doesn't flow properly. It has an anaemic melody that is just too disjointed to work for me. My prediction: 21-26
23. Italy: Marco Mengoni – L'Essenziale
The Italians stick to what they are good at – romance. This is a well composed entry,which Marco clearly feels comfortable singing, as he allowed himself to experiment vocally on stage, which worked at times but sometimes backfired, coming across as out of tune. He lacks contact with the camera which detracts from the general performance. My prediction: 6-10
24. Norway: Margaret Berger – I Feed You My Love
Norway is an acquired taste, but for me another goosebump moment. Some of the camera shots are stunning, and with the added dramatic effect of the strings made my hair stand on end. She comes across as cold and untouchable which works well. Contemporary acts have won the contest previously and could well just do it again. My prediction: 1-5
25. Georgia: Nodi Tatishvili & Sophie Gelovani – Waterfall
Nodi & Sophie perform this anthemic tune very well, but there is absolutely no chemistry between them and it's another entry that smacks of trying to hard to win. It will no doubt tick of a lot of fans' boxes but in places comes across as contrived and calculating. Pompous, they are obviously following the Azeri recipe for success from 2011, but with a weaker song. My prediction: 16-20
26. Ireland: Ryan Dolan – Only Love Survives
Ireland are last on stage and their club friendly message of love could very well benefit from the draw. It has so many things going for it – Ryan looks great on camera and sings the pants off his song, the stage show is spectacular with the drummers. This could well be the closest Ireland have come to victory for a long time. My prediction: 1-5 
I believe the winner will be among these 5 countries: Norway, Ireland, Denmark, Netherlands, Germany
EuroVisionary is recording 2D as well as 3D videos from this dress rehearsal. Subscribe to our youtube channel to be kept updated.
This article is based on the writers experience of the dress rehesarsal and does not nessasairly express the opinion of EuroVisionary.com.