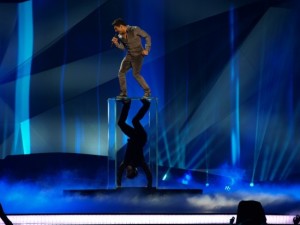 Where the first dress rehearsal this afternoon could be consider a warm up, more were on stake in the second one this evening. Though the actual semi-final isn't before tomorrow evening, half of the result would be decided based on this dress rehearsal where the juries were voting.
To give you a perspective EuroVisionary will be covering all three rehearsals for the first semi-final by three different writers with their respective views on what they see.
01. Latvia: PeR – Here We Go
And the Party has begun. A wonderful opener and a classic Eurovision up tempo song. It has a good energy wibe, and the performance fits the song very well. And it is Eurovision, therefore a male singer is allowed to wear a silver outfit. Thumbs up.
02. San Marino: Valentina Monetta – Crisalide (Vola)
A great Eurovision ballad. It has everything, and it goes right in my heart even though I do not understand a word. But then it changes to an up tempo song and the song is ruined. I don not understand why it is nessasary to go up tempo. It had my vote, but lost it again.
03. F.Y.R. Macedonia: Esma & Lozano – Pred Da Se Razdeni
It starts out wonderfully. I love it. But just like San Marino did, they ruin it halfway. I love the parts of the song where Lozano sings, and hate it when Esma is singing. All in all it turns out okay, but it could have been so much better without Esma's parts.
04. Azerbaijan: Farid Mammadov – Hold Me
This song won my heart the first time I heard it, and it is still one of my favorites. The shadow in the glass box is a nice gimmick and it tells the same story as the lyrics do. A strong entry and it might get a lot of douze points.
05. Finland: Krista Siegfrids – Marry Me
I am not sure I can find any good things to say about the Finnish entry this year. It is just too much of everything and I will certainly not marry Krista.
06. Malta: Gianluca – Tomorrow
A jolly sing along song. It does not do much for me though. I do not hate it and I enjoy the three minutes of happiness, but I am not overwhelmed either.
07. Bulgaria: Elitsa Todorova & Stoyan Yankulov – Samo Shampioni (Only Champions)
To me this is the worst song in this year's Eurovision. Bulgarian drums and a bagpipe. Not a good combination, and I had to push the mute button during the song.
08. Iceland: Eythor Ingi – Ég Á Líf
And we are back on the right track again. This Icelandic ballad is just wonderful and Eythor sings it great. He has so much power and the song continues to grow during the three minutes. He could not have been done better.
09. Greece: Koza Mostra feat. Agathon Iakovidis – Alcohol Is Free
This is so different from what Greece usually sends to Eurovision but it is not bad. I like the rythm and the energy in this song. I also like the hoarse voice of the lead singer in Koza Mostra. Not my favorite, but a song I would like to see in the final.
10. Israel: Moran Mazor – Rak Bishvilo

It reminds me of Harel Skaat's "Milim" from 2010. It is a very classic Israeli Eurovision entry, and we have heard it so many times before. But I still think it is great, and Moran Mazor has a lovely voice. Her dress, however, is another matter. That I do not like. I would not be the same, if this does not qualify for the final.
11. Armenia: Dorians – Lonely Planet
This brings me back in High School fifteen years ago, and I might have liked it back then. But the year is 2013 and now it just sounds a bit old.
12. Hungary: ByeAlex – Kedvesem (Zoohacker Remix)
This is a fantastic piece of art. I do not understand a word but I still gets goosebumps when I hear it. If this does not go to the final, there is no justice.
13. Norway: Margaret Berger – I Feed You My Love
Another piece of art but in a completely different way. I like the electronic sound very much and Margaret does a really good job singing this. She flirts with camera in a very convincing way. I am in love.
14. Albania: Adrian Lulgjuraj & Bledar Sejko – Identitet
Albania rocks. I like the guitar and it is a decent song. But it is not enough to get my vote.
15. Georgia: Nodi Tatishvili & Sophie Gelovani – Waterfall
Am I the only one who thinks it is a bit too much "In a Moment Like This" from 2010? I like the song and Nodi and Sophie do a great job, but it has been seen an done before. I would like to see it the final though.
16. Switzerland: Takasa – You And Me
This one I like. It has a catchy tune and I want to sing along. They seem to be enjoying themselves and I enjoy watching this. 
17. Romania: Cezar – It's My Life
Maybe I have to correct myself. Until now I thought the Bulgarian entry was the worst this year. But Romania comes very close. What are they thinking? I must admit I had to use the mute button once again.
The 10 qualifiers: 
I believe the ten qualifiers will be Latvia, F.Y.R. Macedonia, Azerbaijan, Iceland, Greece, Israel, Hungary, Norway, Georgia and Switzerland. 
And just for the record, I give my douze points to Petra Mede. 
EuroVisionary is recording 2D as well as 3D videos from this dress rehearsal. Subscribe to our youtube channel to be kept updated.
This article is based on the writers experience of the dress rehesarsal and does not nessasairly express the opinion of EuroVisionary.com.