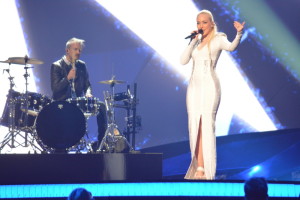 10 jubilant acts qualified for the final last night. Tomorrow evening 17 more will fight for the remaining 10 spots. This afternoon we saw the first dress rehearsal, which will hopfeully give us some indication as to just who has the best chances. 
To give you a perspective EuroVisionary will be covering all three rehearsals for the first semi-final by three different writers with their respective views on what they see.
01. Latvia: PeR – Here We Go
The boys from PeR took to the stage in their trademark spangly costumes, throwing themselves around with great gusto. The staging is as in their previous rehearsals, the backdrop mainly in purple, with yellow and blue beams thrown onto the stage.
PeR have as in previous rehearsals two backing musicians with them on stage, playing their electronic instruments. They have kept in their bizarre marching sequence, but the energy that emanates from their performance as they bound down the catwalk is contagious. This went down very well in the hall, so you never can tell where this will end on the night.
02. San Marino: Valentina Monetta – Crisalide (Vola)
The show begins with Valentina lying motionless in the floor, covered in a black cloak; she sits up and the stage is completely dark with the exception of some white rays lighting her up from behind. The backdrop later becomes red. She clutches a round illuminated sphere. Behind her she has two dancers also dressed in dark colours. You can just catch a glimpse of her red dress and she is barefoot. The same applies to her dancers. Her flowing red dress is revealed when the song changes tempo and goes from ballad to hi NRG number.
She gives an extremely passionate performance, clearly comfortable with the difficult vocal. She pours herself into her vocals, every word she sings comes across as credible. An extremely dramatic performance that went huge in the press centre.
03. F.Y.R. Macedonia: Esma & Lozano – Pred Da Se Razdeni
Lozano takes to the stage in a simple classic black suit, but has lost his trademark glasses. Esma enters after the intro wearing the same red dress with matching headdress. The stage starts off as dark, later bursting into fiery colours.
Lozano sang like a god yet again today – his vocals truly were impeccable. Esma's vocals are an acquired taste, but she clearly had a lot of support here. Her input marrs what could have been a brilliant Balkan number, her wailing is not for everyone, but the cheers after the show were deafening! Their chemistry on stage is pretty unique – Georgia take note! 
04. Azerbaijan: Farid Mammadov – Hold Me
Next up was heartthrob Farid Mammadov, dressed in his by now familiar grey suit standing atop a glass case with a man inside. The man inside is dressed completely in black, a reference to Farid's shadow. The idea of this staging is simple but a stroke of genius.
His vocals were good, but by far the best we've heard from him during his rehearsals. There is ample interaction with the camera, plenty of dramatic camera shots and angles. When the rose petals begin to swirl around the man in the box and a woman enters the stage wearing a stunning red dress is fantastic imagery.
05. Finland: Krista Siegfrids – Marry Me
Time for fun and frolics with Krista – the same white bridal gown with pink bandage is on show. The backdrop also remains unchanged, with the huge Las Vegas sign featuring her name. The choreography works extermely well on screen for this uptempo number.
Again, Krista delivers a very solid vocal, despite all of the movement around stage. A veil is placed on her head which she rips off before she launches into the final chorus. The falling confetti worked today thankfully and it was the icing on her wedding cake. The lesbian kiss was kept in the performance, much to the rapturous applause from the audience both inside and outside the arena. 
06. Malta: Gianluca – Tomorrow
Smiling Gianluca takes to the stage for Malta with his bubbly brand of sunshine pop.The stage backdrop was a mixture of colours withthe lyrics of the song appearing upon it as they were sung. Gianluca is backed by two singers, a guitarist, a drummer and a mandolin player who are all sitting. He is wearing the same outfit as in the rehearsals; rust coloured pants with a white shirt and black waistcoat.
Gianluca really sang his heart out for this jauntly little number, fu ll of smiles as he walked around on stage interacting with his musicians and walking down onto the catwalk. His vocals were slightly strained during the last chorus, but this was by no means a bad effort. 
07. Bulgaria: Elitsa Todorova & Stoyan Yankulov – Samo Shampioni (Only Champions)
Next up is turbo balkan number Samo Shampioni featuring traditional Balkan instruments. Elisa comes on stage wearing her trademark white military jacket with red trim. She and Stoyan are joined by three traditionally dressed backing singers for this lively number.
Stoyan attacks the drums as if his life depended upon it; Elisa's vocals are quite eerie – jarring and screeching. They have a drum face off on stage which works brilliantly on camera. The performance otherwise is explosive, and both make good use of the stage. Can't see this qualifying though, it's just too bizarre a sound and not mainstream enough.
08. Iceland: Eythor Ingi – Ég Á Líf
Eyþór Ingi  opted for a dark grey jacket instead of a white one. This is paired with a purple shirt and black jeans. The backdrop is the same as in previous perfomances, ie. a maritime theme with a lighthouse and coastal cottages bathed in blue.
His vocals again were faultless for this simple celtic tinged tune. He held a note that for many here this year would have been extremely difficult. The bagpipes coming into the song at the end help add a lovely touch. Less is more, and his simple hand movements helped convey the meaning of the song. Another song that received a huge reaction.
09. Greece: Koza Mostra feat. Agathon Iakovidis – Alcohol Is Free
Next up are the Greeks with their attempt at ska. The backdrop matches their outfits – their tartan coloured kilts are changed with more sober black and white ones, the colours refelected behind them. The group look as if they're having a whale of a time, performing their entry with the gutsiness required.
Plenty of passionate Greek shouting, zorba dancing and the camera manages to focus equally on all band members. They make great use of the stage area, dancing around like a bunch of madmen, ending their routine with a can can! A very infectiously, infuriatingly catchy number.
10. Israel: Moran Mazor – Rak Bishvilo

Someone needs a serious word with Moran's stylist  the black dress with white piping and jewels does her figure no favours. The colurs also suit the backdrop which is a sober, minimalistic affair, featuring what looks like Northern lights.
She is backed by two backing singers who help her deliver a powerful performance where she sings her heart out. Pleanty of sweeping shots of her and camera close ups add to the dramatic mood of the song. This was an extremely intense delivery that Israel should be proud of.  
11. Armenia: Dorians – Lonely Planet
Dry ice on the floor set against a black backdrop pierced with yellow rays is the setting for the rock ballad Lonely Planet. Gor looks just as in other rehearsals, wearing the same kind if casual attire, a plain shirt paired with a scarf and jeans. 
His vocal were spot on in this rehearsal – wit balanced amounts of both soul and oomph in all the right places. It's just a shame that the tune is so lacklustre and goes nowhere – only building in momentum in the last few bars. The pyro effects that are used at the end of the number, both vertical and criss crossing look great on screen.
12. Hungary: ByeAlex – Kedvesem (Zoohacker Remix)
The strange cartoon characters make for bizarre viewing on the backdrop of the Hungarian entry. ByeAlex is dressed in the same outfit, a black leather jacket with hat and trademark specs to sing this gentle ballad. It's almost whispered in places, sounding extremely soothing.
His vocals were unsteady – during the first chorus they were clearly off key, but fortunately he managed to soon rectify this. His voice blends well with his one female backing singer. The staging is simple, but again this ties in nicely with the feel of the song.
13. Norway: Margaret Berger – I Feed You My Love
Margaret looked stunning yet again in her modified white straight jacket dress set off brilliantly against the blue backdrop with pulsating blue lights overhead. She has some fantastic camera shots with really intense look. A few simple hand gestures are all that are needed to heighten the dramatic image and sound of the song.
Vocally she was spot on today, gicing her best performance yet, clearly enjoying herself and feeling very comfortable. Her earlier vocal issues have been rectified and she gives a dark, brooding, sensual delivery. Way to go Margaret!
14. Albania: Adrian Lulgjuraj & Bledar Sejko – Identitet
Albania bring fire to the stage as huge pyro effects and blasts of smoke herald the arrival of their entry, Identitet. The backdrop reflects the colours of the Albanian flag, red and black, with flashing yellow beams. A keyboardist and a drummer sit atop two platforms. A huge set of timpani are also on stage, looking most impressive. 
This rock number makes no apologies and thunders along. The guitar solo features some fantastic pyro effets with the electric guitar. Vocally this is solid and rousing. Claps of fireworks round off the song, bringing it to a visually fantastic climax. 
15. Georgia: Nodi Tatishvili & Sophie Gelovani – Waterfall
Nodi is dressed in a black suit to complement Sophie's pale blue flowing creation. They begin ther routine by standing apart, with dry ice flowing between them. This is set off against a backdrop featuring either aqua or cloud effects.
Their vocals are very strong,pitch perfect for most of the song, but when they come together, it's just ot credible. They're not singing together they're singing at each other, which becomes bellowing at the end. The same pyro effects as in Azerbaijan 2011 are used, the shower of sparks, which just leaves you with the feeling that this is extremely calculated and a formulaic attempt at winning Eurovision. It went huge in the press centre, though.
16. Switzerland: Takasa – You And Me
The Swiss Salvation Army soldiers take to the stage with this thumping song of unification and love. They are wearing the same outfits as in their previous rehearsals ; whte shirts with dark pants. The backdrop is also unchanged, with a iron girder motif.
This was vocally weaker than their previous offerings. There's nothing happening on stage and just standing in a line simply won't cut it. It comes across as a stilted performance and the female vocalist's voice was quite thinner today, kind of grating on the ears. Too simple a performance to stand a chance of garnering votes.
17. Romania: Cezar – It's My Life
a pulsating introo for Romania and Cezar's chest hair has thankfully gone, revealing a clean cleavage with his black sparkly übercamp creation with a high collar. His vocals are suprisingly pure – there's no doubt this man has talent, but it just sounds too bizarre.
Paired with an equally bizarre staging, featuring a huge red sheet that is spread across the stage, apparenly symbolizing a placenta comes across as messy. He is raised up on a platform as his dancers emerge from under the sheet. A rain of glitter confetti brings this freak show to a spectacular finish. One of the wierdest spectacles ever seen at Eurovision. 
The 10 qualifiers: 
I believe the ten qualifiers will be : San Marino, Azerbaijan, Finland, Malta, Iceland, Greece, Israel, Hungary, Georgia and Norway.
EuroVisionary is recording 2D as well as 3D videos from this dress rehearsal. Subscribe to our youtube channel to be kept updated.
This article is based on the writers experience of the dress rehesarsal and does not nessasairly express the opinion of EuroVisionary.com.