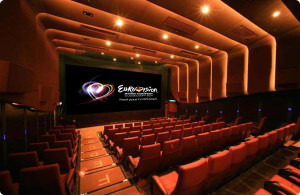 It has been confirmed in 8 European countries that the Eurovision 2011 final will be broadcast live in cinema theatres to attract more audiences to the Eurovision Song Contest as a competition. Tickets are priced evenly across Europe at 10 Euro and are available to book from 8th April.
You may already know that Germany will be watching the Eurovision Song Contest this year on 
world's largest television screen
 projected onto the side of the Thyssen Hochhaus building. Several other countries will also be watching the final live on the big screen including:
United Kingdom: Odeon Cinemas
Denmark: Det Kongelige Teater
France: UGC
Portugal: Lusomundo Cinemas
Finland: Finnkino
Italy: Checci Gori Group
Spain: Kinepolis
The EBU is believed to be currently in discussions of providing a broadcast to certain IMAX theatres available in the United Kingdom and Spain , however this is not confirmed. If the broadcast of this year pleases, then the EBU will confirm the broadcast of the final in 2012.
Tickets are priced at 10 Euro each and will be available to book from the 8th April 00:00 CET from Ticketmaster, website via links. Tickets are expected to sell out extremely quick with fans attending from overseas countries so hurry!
More information to follow in coming days.
Update: This was our April Fools joke and unfortunately not true. 
Links
In my view
Before I began attending Eurovision, I had always wanted to view the contest on the big screen and now is the chance for those who can't attend to view the way it was meant to be seen. Not only will this be a great event but the atmosphere in the theatres should be amazing. It would be interesting if the EBU decided to film some of the audiences in the theatres to include in the 2012 edition of Eurovision.

The opinion expressed in "In my view" are those of the author and are not necessarily the one of EuroVisionary.com.