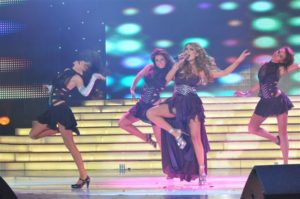 On Thursday evening, in a TV show which lasted for two hours, Romania selected the last six songs for their national final. The show was hosted by Radio DJs Orlando, Escu and Popescu in studio 3, and Alina Sorescu and Andi Vilar in the green room.
The last 6 finalists are :
Costi – Can You Forgive
Red Blonde – Nu am cu cine
Elena Gheorghe – The Balkan Girls
Catalin – Stop
Alin Nica – Don't Leave
Imba – Round & Round
The six acts, alongside Popas Band, Blaxy Girls, Dalma,Tina, Tabassco and Zero, will try to persuade the public and the nine members of the jury on Saturday night, that they deserve to represent Romania in Moscow at Eurovision 2009. The final show will take 3 hours, followed by a live chat with all the contestants.
Also this Saturday, after 20:15, the final is transmited by TVR 1 (Romanian Broadcaster) and TVR International, we can see the band Biondo in a recital.
Below, you can see videos of the six qualifiers.
http://uk.youtube.com/watch?v=CfiqHSnGEhM
http://uk.youtube.com/watch?v=-pa9-rBpXpk
http://uk.youtube.com/watch?v=gbR9IS1ERYU
http://uk.youtube.com/watch?v=blqCo0sL71k
http://uk.youtube.com/watch?v=ip1VKXoxND0
http://uk.youtube.com/watch?v=vO6klgSp5q8