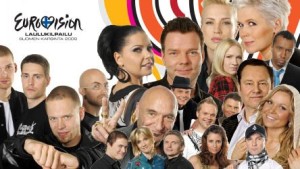 Finnish broadcaster, YLE, have made the twelve songs competing in the 2009 Euroviisut available to listen to.
The twelve songs will compete over three semi finals starting on 9th January, with four songs competing in each semi final. Two acts and their songs will qualify directly for the final via a public vote. The six remaining songs will compete for the last two places in the Euroviisut final on 31st January.
The line up for each semi final is as follows;
1st Semi Final – 9/1/09
Kwan – 10 000 Light Years
Riikka – Meren
Tapani Kansa – Rakkautta on, rauhaa ei
Tiara – Manala
2nd Semi Final – 16/1/09
Sani – Doctor, Doctor
Passionworks – Surrender
Remu – Planeetta
Waldo's People – Lose Control
3rd Semi Final – 23/1/09
Signmark feat.  Osmo Ikonen – Speakerbox
Janita – Martian
Vink –  The Greatest Plan
Jari  Sillanpää  – Kirkas kipinä
The hosts for all the shows are Jaana Pelkonen, who hosted the 2007 Eurovision Song Contets  and Mikko "Peltsi" Peltola.
Links