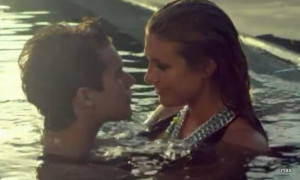 A steaming hot video to the song Imagine has just been released. The song is a duet between Swedish Eric Saade and Norwegian Tone Damli. The video is so hot that rumours about them sharing more than just their musicality has been floading in both countries. The couple denies it all though.
Eric Saade represented Sweden at the 2011 Eurovision Song Contest where he came third singing about how he wanted to be Popular. That he however already accieved the year before where his Manboy ended third in the Swedish selection, Melodifestivalen. Tone Damli came second in the Norwegian Melodi Grand Prix in 2009 with the song Butterflies. Now they have gotten together for the song Imagine, whose official video clip was released today. 
In the video, that was recorded on Ibiza, the couple gets quite close to each other. So close that rumours about a romance have been spreading quite fast. Tone has a boyfriend and during the recording of the video Eric told her that it was up to her how far she would take it, in the video as he didn't want to get into problems with her boyfriend.
The rumous about Eric and Tone was started by Swedish tabloid magazine Se & Hör that wrote that the couple had gotten together and that she was about to move in with him in his newly bought apartment in Stockholm. Both of them immidiately went out denying the rumours and as Tone puts it: "The only thing Eric and I have done together is recording a song and a music video to it" and adds that she doesn't know where such a story comes from.  It probably didn't help much that Eric, who became single a few months ago after a breakup with Molly Sanden, is quoted for having said: "Tone has been awarded Norway's most sexy woman and I Sweden's most sexy man. That must be a brilliant match".
Below you can see the video – and then look forward to the new duo performing at Lotta På Liseberg on the 6th of August.