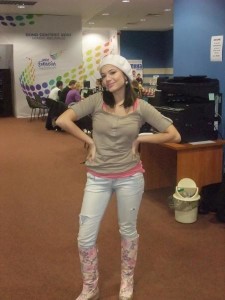 Elena Risteska, who represented FYR Macedonia at the 2006 Eurovision Song Contest, is in Minsk to support and coach their singer, Anja Veterova.  Elena spoke to EuroVisionary about her forthcoming plans.
Elena is working on her new album to be released in 2011.  She is also very excited about a new tv show by M2 productions of Play – Search for a Star.  Elena will be a judge on the show along with songwriter, Darko Dimitrov.  Elena won the reality show herself in 2002 and has gone on to establish herself as one of the biggest stars in FYR Macedonia and other Balkan countries.  Elena sang Ninanajna at the 2006 Eurovision Song Contest in Athens and finished in 12th position.
Elena and Darko arranged the FYR Macedonia Junior Eurovision song by Anja Veterova, Eooo, Eooo.