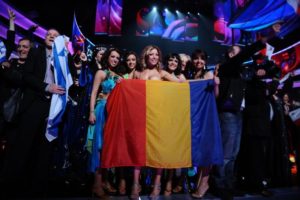 On Friday night at 23:00 (Moscow time), Elena Gheorghe, the Romanian representative at Eurovision 2009, will participate in a special TV show organised by Channel One Television. The show will be transmitted live from Ostankino TV Center Studios.
The programme will take two hours, and all the participants who will take part in the big final of the Eurovision Song Contest 2009 have been invited. The host will be Andrey Malakhov, who presented the Eurovision Semifinals. They are ready to prepare many surprises for the guests. Along with Elena, her sister will also participate, together with a small group of fans, and it is anticipated with a great eagerness by the estimated large audience.
On Thursday, Elena and her team declined to go on the tour of Moscow offered by the host, because she wanted to go to the Romanian Embassy in Moscow for additional rehearsals. Asked by many journalists what changes she will make for the final, Elena and her team said that they want to put more attention on her famous throne, and she said that her dress will change in the final to a pink one. Although all her dancers were asked to show a little more skin on the stage, they said that they will wear the same dresses.