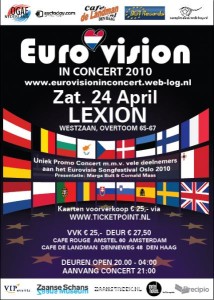 After the successful edition last year the Dutch city Zaandam will host the second 'Eurovision in Concert' on the 24th April. It is a promo event where at least eighteen participants for the upcoming Eurovision Song Contest will perform their songs.
The Lexion Venue in Zaanstad nearby Amsterdam will be the scene of this year's Eurovision in Concert. Hosts of the event will be Marga Bult, the Dutch participant back in 1987, and Cornald Maas, the Dutch commentator during the Eurovision Song Contest.
Already eighteen countries have signed up for this huge promo event. Those are Juliana Pasha (Albania), Tom Dice (Belgium), Miro (Bulgaria), Jon Lilygreen & The Islanders (Cyprus), Kuunkuiskaajat (Finland), Sofia Nizharadze (Israel), Aisha (Latvia), InCulto (Lithuania), Thea Garrett (Malta), Sieneke (The Netherlands), Alyosha (Ukraine), Filipa Azevedo (Portugal), Milan Stankovic (Serbia), Anzambel Roka Zlindere & Kalamari (Slovenia), MaNga (Turkey), Josh (United Kingdom) and Michael von der Heide (Switzerland).
The concert will be opened by a performance of host Marga Bult. She will perform the song Rechtop in de wind, the one Bult sang in 1987 when she ended 5th in the contest. She will even wear the dress she wore in Brussels. Tickets are available from 25 euros at Ticketpoint.
Links