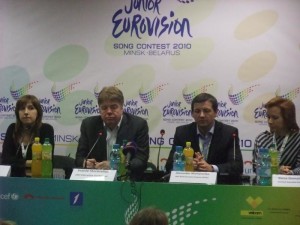 The EBU Press Conference took place today at the Minsk Arena, Belarus.  Svante Stockelius is confident the Junior Eurovision will continue for many years to come.
The EBU Press Conference was jointly hosted by the EBU and the host country tv, BTRC.
This year UNICEF is a co-producer with the EBU.  All televoting proceeds will go to UNICEF.
The show will be broadcast also in Azerbaijan and Australia.
Svante Stockselius confirmed the EBU are in negotions with a couple of countries about hosting the Junior Eurovision next year.  He is confident the contest will run for many years to come.
This will be Mr Stockselius's last work in his current role as executor supervisor of the Eurovision Song Contest and Junior Eurovision Song Contest.  He will continue in tv work in is home country, Sweden.