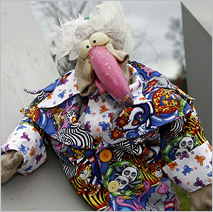 The Walkers Sensations TV Now Awards '08 took place on Saturday night in the Mansion House in Dublin.  Dustin was on hand to present the award for best newscaster of the year.
The show was not without its Eurovision links but by far the most relevant was the fact that Ireland's 2008 ESC entrant was in attendance.  Dustin introduced the nominees for best Irish newscaster of the year with his usual Dublin wit and sarcasm.  Anne Doyle from RTE was the winner of the category.  Anne Doyle has long been the butt of many of Dustin's jokes and it came as no surprise when she took the opportunity to strike back at our feathered friend.  She told him that he was "looking fabulous after the avian flu".  She also told the gathered audience that it was back in 1967 that he had beaten Sean Dunphy to the Eurovision crown and so he was even older than she was.
Several other Eurovision faces were also involved in the show. Mary Kennedy, the host of Eurovision 1995, was nominated for best female presenter of the year.  Gerry Ryan, the 1994 Eurovision co-host, had a similar honour in the male presenter category.  Ray D'Arcy, host of Eurosong 2008, was there to present the nominations for most memorable moment of 2007.