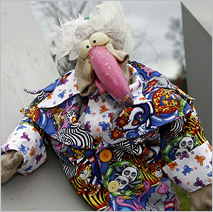 The name Macedonia is a very troublesome one indeed and yet again the affect of the dispute is being felt in the Eurovision Song Contest.  The lyrics of Ireland's 2008 entry dared to include Macedonia in a list of countries that Dustin claims to love.
It appears however that RTE and John Morrison (Dustin) have been requested by the EBU to drop the name 'Macedonia' from the lyrics of 'Irelande douze pointe'.  It is unknown as to whether this demand/request was sought by ERT (Greek national broadcaster) through the European Broadcasting Union or whether the EBU took it upon themselves to diffuse a situation before it had a chance to arise.  In regard to the case Dustin issued a reply stating "We did not mean to offend Macedonia or Greece with our song. Geography is not our strong side. You probably noticed that because in our song we claim the Danube river goes through France."
In my view
This is quite a stupid move, there wasn't really a need to change it.

The opinion expressed in "In my view" are those of the author and are not necessarily the one of EuroVisionary.com.