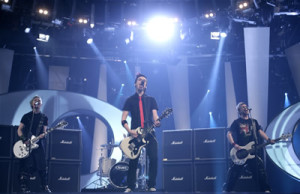 The Dreams didn't manage to win last year's Dansk Melodi Grand Prix when they participated with the song La' mig være. The Faroese punk rock band is now back with a new album contains both studio and live versions. A DVD with interviews, videos and live performances is included as well. 
Last year the Danes didn't think The Dreams had what it took to represent the country at the Eurovision Song Contest and the ticket for Belgrade was given to Simon Mathew. This haven't stopped the band who is now achieving big success with their latest album Den Nye By.
The band has been placed number one in 5 out of 12 months on the boogie list, which is a chart in a youth TV program where the viewers votes for their favourite video. The music magazine Gaffa's readers placed The Dreams in top5 in the three most important categories for 2008; Band of the year, Album of the year and best hit of the year. The new album has now also found its way into the official charts over most sold albums. This week they have entered directly into a 15th position on the album top40.
Tracklist:
1. Det fortabte slæng
2. Backstabber
3. Ingen kan erstatte dig
4. Verden vil bedrages
5. Lorteliv
6. Himlen falder helvede kalder
7. 22 (den nye by)
8. Alda
9. La' mig være (Dansk Melodi Grand Prix 2008)
10. Snob
11. Glem & start igen
12. The rise and fall of du & jeg
13. Efterspil
14. 25 (den nye by prt. 2)
15. Himlen falder helvede kalder (live)
16. Glem & start igen (live)
17. Verden vil bedrages (live)
18. Ingen kan erstatte dig (live)
19. Backstabber (live)
+ DVD with videos, interviews and live materials