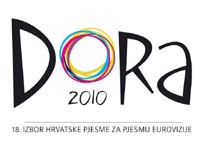 Tonight Croatia held the semi-final of its Dora contest. The event happened in the Crystal Hall in Opatija, a much used venue for the Dora. Of the sixteen songs, eight qualified for the final.
The show was held in the Crystal Hall of the Kvarner Hotel in Osjek. The hosts of the semi-final were Nevena Rendeli, Duško Čurlić and Mirko Fodor. Ida Prestar i Iva Šulentić reported from the Green Room. The show was directed by Ivan Miladinov. The stage was designed by Dragutin Broz. It was full of  modern and stylish chandeliers, decoration, spotlights and good scenery. The stage was covered by 11 cameras which followed the show. The audience supported all the participants with huge applause. The voting lasted 10 minutes. 
Croatia has participated in the Eurovision Song Contest sixteen times, participating every year since their debut 1993.  Eight songs have already qualified for tomorrow's final, the writers having been invited to participate based on the most played songs in Croatia in 1998, as published by the Croatian Composers' Society. Sixteen songs were chosen through a public tender, and these participated in the semi-final tonight. 
Feminnem is a Bosnian-Croatian girl pop band. The group formed in 2004, and they had one hit single Volim te, Mrzim te (I love you, I hate you). They are most known for representing Bosnia and Herzegovina in the Eurovision Song Contest 2005. Feminnem participated in the Croatian national selection for Eurovision Song Contest 2009 and took 3rd place.
Right now band members are:
•    Neda Parmać ( Croatia)
•    Ivana Marić ( Bosnia and Herzegovina)
•    Pamela Ramljak ( Bosnia and Herzegovina)
Mijo Lešina was born in Frankfurt, and in 2006, was back in Zagreb where he started his studies. In Zagreb, he sang for some time as a backing vocalist and with duo Motiwwwo, he recorded a house song, Ljubav Trazim (I Am Searching for Love) which became famous. He became well known thanks to the the show, Showtime, and got a good position. Nowadays, he plays piano and he wants in future to sing music which will have an R&B sound, but will be enriched with the sound of Croatia and Dalmatia.
Valungari is a band which sang the song Vol or ne vol, which was written by Zoran Preradović (music) and Marko Kovačić (lyrics). The girl is singing vocals wearing a huge dresst, while a boy band is playing instruments.
Martina Vrbos is a Croatian singer, she sang song Ti i Ja (You and Me),
composed by herself.
Bety Belle sang the song Ne (No) written by Ines Prajo and Arijana Kunstek. It was a crazy performance  and alternative clothes for this 19 year old girl.
Teska Industrija performed the song Nazovi Stvari Pravim Imenom (Call Things by Their Real Name) written by Denis Dumančić and Fayo.
Nikola Marjanovic  is a singer whose favourite style of music is rock and funk. Tonight, he sang the song You and Music, written by Lea Dekleva. Beside him on the stage, there was a girl in alternative clothes dancing slow moves on the stage and sitting on the piano.
Klapa Iskon is a group with five male members who are singing, but on the stage, we saw one more playing guitar. This band has Croatian traditional music in itself – Klapa. The song is called Time For End written by Matko Šimac. They are all dressed in black suits, standing in the road, one beside other, and singing some parts all together.
Carla Belovari was born in Slovenia, by coincidence, because in that time, her mother was travelling in Germany. Her childhood was spent in the German town of, Iglstadt. At 15 years old, she was already actively playing the piano, and also attended a high school for music, a member of the Symphony Orchestra and Big Band. After she passed the first year of musicology and history of Germany in 2007, she was still enrolled in the Faculty of Philosophy in Zagreb. Six months after that, she participated in the show Croatia Looking for a Star. Carla released her debut single Go On Time, she wrote herself. She presented her song playing piano on the stage.
Dražen Žanko is a Croatian singer-songwriter, singer and composer of popular music. He is known for many songs performed at the Split festival since 1980. His songs are grounded in a universal love, and a love of country. Sinjanin has his soul in his songs, which are mostly written by himself. They are largely about his native region, the valley of the river Cetina, the Mediterranean life and the people of this region. He sang almost alone on the stage, having some backing singers on his right.
Filip Dizdar is a Croatian singer who performed in a few shows in Croatia and has started working on his debut album. Tonight he sang the song The Sun, The song has a very cheerful arrangement. It is somehow positive, talking about love in some romantic way,  just to forget all worries and doubts and go on way through the clouds.
Swing Mamas is female jazz band, with members: Vesna Matana Matić, Iskra Kapitan, Sandra Kašmo. Their song, Trio Tulipan, was written by Stefan Bravačić. On the stage, they wore dresses of different colours. One was wearing red, another green and third singer yellow. The song sounds like older music.
Rivers is a girl band that sang the song Without You, written by Tamara Obrovac and Anja Gasparini. They were dressed in white-red dresses, with one male dancer wearing black and dancing ballet moves.
Doris Teur is a young singer, studying singing on Rock Academy. She is also interested in acting, she had a part in the musical Zabranjena Vrata (Forbidden Door) playing a main character. She was singing a beautiful song telling about her waiting for a guy for a long time.
Frano Krajcar is a traditional Croatian singer. His song was written by himself. Beside him, we could see female vocalists singing traditional sounds. All the performance is mixed with some oriental and modern parts in it.
Giuliano Đanić was born in Split in 1973. He started with music in 1986, and in 1988, he created the band Kleopatra. During his life he had lot of famous songs and hits. His latest album, My 80's,has a lot of sounds from that period. Tonight, he sang a song written by Duško Rapotec-Ute, Branko Berković, Boris Novković called My Dear
Below is the full line up of the semi-final of Dora 2010. Eight of  the sixteen qualified for the final. The qualifiers are in bold type.
1.    Feminnem – Lako je sve
2.    Mijo Lešina – Tajna ljubavi
3.    Valungari – Vol or ne vol
4.    Martina Vrbos – Ti i ja
5.    Bety Belle – Ne
6.    Teška industrija – Nazovi stvari pravim imenom
7.    Nikola Marjanović – Ti i muzika
8.    Klapa Iskon – Vrime za kraj
9.    Carla Belovari – Sada osjećam to
10.  Dražen Žanko – Moja ljubav jedina
11.  Flip Dizdar – Sunce
12.  Swing Mamas – Trio tulipan
13.  Rivers – Bez tebe
14.  Doris Teur – Ti me ne zaslužuješ
15.  Frano Krajcar – Jobrni je jobrni
16.  Giuliano Djanić – Moja draga
The songs from the semi-final will be joined by eight more songs, written by invited writers.
AliBi – Prvi pogled
Franka Batelić – Na tvojim rukama
Marta Kuliš – Preporodjena
Tihomir Kožina – Za koga si se čuvala
Žiga i Bandisti – Blagdan
Sabrina – Golu si me skinuo
Viva – Zadnja kap života
Đani Stipaničev – Nek nam bude lijepo