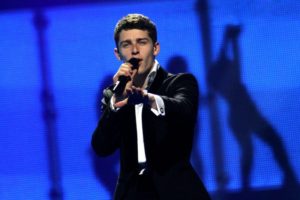 Donny Montell gave a confident performance of Love Is Blind at Lithuania's second rehearsal here in Baku.  His vocals were very strong for this song of two halves (first ballad and then upbeat).
Donny was alone on stage and he was wearing black jacket and trousers with a white shirt.
He begins the song wearing a blindfold and when the song turns to uptempo he removes and throws it away.  At this point does a somersalt on stage.
The lighting begins dark with a single spotlight on Donny and when the uptempo part of the song begins the background is a colour of blue and pink with dancing girls as silhouettes.
Donny's vocal were very strong today and appeared very confident on stage.  Lithuania have a good draw in the second semi final and a similar performance on Thursday could could take them to the final.