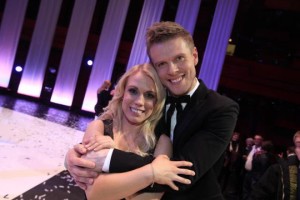 When Jónsi was recording the duet of Mundu Eftir Mér with Greta Salóme, he knew little of the twists and turns that lay ahead. Both artists have recently given an interview with Icelandic broadcaster RÚV, telling of how their collaboration came about and just how it felt to win the national selection, Söngvakeppni Sjónvarpsins 2012.
In conjunction with this year's Icelandic entry, a programme has been made entitled Leiðin til Baku (The Road To Baku), which documents the preparations of the Icelandic delegation in the run up to the contest in Azerbaijan. The programme will be aired on RÚV on Sunday the 20th of May at 20:15 Icelandic time (GMT).
Greta Salóme is keen to offer viewers some inside information about just how the song came to be : "The song Mundu Eftir Mér didn't come about until October 2010, when I composed it and it wasn't initially conceived as a duet, I just sang it on my own. After I'd finished cutting the demo, I started to think about how I wanted to interpret the song, how I would show it at its best. It's such a powerful song, crammed with elements and instruments that are great to watch…it then struck me how it would sound as a duet, a natural duet given the story behind the song. For me, Jónsi was the perfect match…Icelandic, masculine with a voice that has a rough edge but that at the same time can sound soft."
Her singing partner Jónsi goes on to explain his side of the events and tell a little about the thoughts and feelings surrounding his participation: "I asked her to send me the song, I listened to it and fell completely for it and also was won over by the fact that my wife loved the song! It was then that I decided to sing the song. It wasn't until after we'd finished recording the track that I was asked if the song should be submitted to Söngvakeppni Sjónvaprsins (the national selection), to which I replied "OK."…It was a really strange feeling to be standing there on stage when we won."
Greta Salóme went on to describe her reaction to winning : "It was an amazing feeling, I just have a vague recollection…Magni's was my favourite entry in the contest!" , whereas Jónsi seemed to be somewhat phased by the whole thing. As he explained "I thought they (Blár Ópal) had such a broad appeal with the younger viewers, I was sure they'd win. I found it so wierd to stand ther on stage when the announcement was made and instead of revealing Stattu Upp as the winner, they announced Mundu Eftir Mér!…Morgunblaðið (the main Icelandic daily) took a picture of me with an troubled expression afer the win and it wasn't until then that I was able to let myself go and be happy for our win. I wasn't at all prepared for the overwhelming reaction. Reactions at the university where I've been studying have been amazing – they've welcomed my participation with open arms, have been so supportive and I look forward to sitting my exam there on the 11th of May." 
An announcement came on Facebook yesterday, also confirmed by national broadcaster RÚV that the duo will be wearing the same outfits for the final as they wore in the Icelandic final with ah few small alterations. Greta Salóme and Jónsi are to represent Iceland with the english version of Mundu Eftir Mér, entitled Never Forget and will be performing second in the first semi final on the 22nd of May. If you feel like brushing up on your Icelandic prior to the first semi final, you can watch the interview here.
Eurovisionary wishes the two the very best of luck in Baku and Jónsi good luck in his exam today!