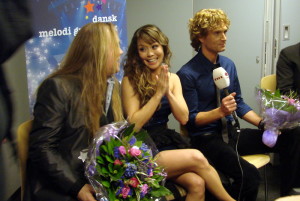 The winner's press conference, held shortly after last night's Dansk Melodi Grand Prix, revealed that Tomas won as he didn't want to let his child down, that their manager won quite a lot of money on them, and that having lived in Russia for six years now means Tomas prefers Ukrainian champagne!
At the press conference after winning the Danish final with the song In A Moment Like This, Christina Chanee & Thomas N`evergreen both said that this was the wildest thing they had ever experienced in their careers, and that says something about the event, because Thomas N`evergreen is used to audiences of between 25.000 to 50.000 every time he gives a concert in Russia, where he's a big star and has been living for some years now.
They were a bit overwhelmed with the whole situation and agreed that this could well be the start of something big. And Thomas N`evergreen said that when the song was presented to him for the first time, he promptly fell in love with it, and he and his personal manager, Stig Ulriksen, started looking for possible female singers to duet with.
Stig Ulriksen believed so much in the song that he, when the odds were high, bet 6.500 dkr on the song to win. That turned out to be a very good idea, because the bet paid off with some 60.000 dkr. Asked if Chanee & N`evergreen would benefit from that, he said laughing "Well, a small beer, no need to overdo". Thomas N`evergreen returned saying that he already had some Ukrainian champagne ready in the dressing room. Christina Chanee added that he got it ready before the contest for the celebration later.
Asked if Thomas N`evergreen's success in Russia would mean more points from what`s called "The Eastern European song contest mafia", Thomas N`evergreen smiled and said "Well, it doesn't hurt to be well known over there. But he didn't put that much in to all that neighbouring points debate, because they also need points from Western Europe if they are going to win.
Thomas N`evergreen ended the press conference with a sweet story, that when he said goodnight to his little daughter, the night before he left for Aalborg, she looked him in his eyes and said "you`re gonna win Dad, you don't want to let your children down, do you?".