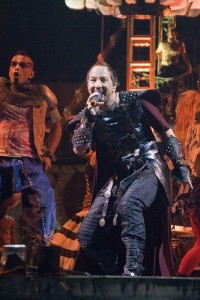 After realising a CD that includes some of his biggest hits as well as five new songs DJ BoBo is ready to start his Vampires Alive tour. From the 30th of April til the autumn he will be touring in Switzerland, Germany and Poland.
Not qualifying for the 2007 Eurovision Song Contest final has not killed DJ BoBo's vampires, which he will prove during the tour that kicks off in Oberhausen, Germany next week. The new show is being described as a mega party that will "break the border of his entertainment so far". The show will include a lot of explosive moments and will of course bring all of his big hits.
The Polish fans will get the chance to see this in Poznan on the 27th of May while the fans living in Switzerland and Germany will have several opportunities not to miss it. The complete schedule can be found below. For Eurovision fans the date to notice is the 24th of May. DJ BoBo will that evening perform in Passau, Germany and is therefore not able to watch the Eurovision Song Contest final live this year. As Switzerland participates in the 2nd semi-final he will also miss out on seeing whether or not Paolo Meneguzzi can do what he himself didn't manage to do; bringing Switzerland to the final. That evening he is performing in Dortmund.   
April 2008:
30th – Oberhausen, Germany
May 2008:
1st – Hannover, Germany
2nd – Dresden, Germany
3rd – Berlin, Germany
4th – Leipzig, Germany
5th – Fulda, Germany
7th – Frankfurt, Germany
8th – Saarbrücken, Germany
9th – Stuttgart, Germany
10th – Zürich, Switzerland
11th – Zürich, Switzerland
12th – Basel, Switzerland
14th – Kreuzlingen, Switzerland
15th – Kempten, Germany
16th – Chur, Switzerland
17th – Visp, Switzerland
18th – Mannheim, Germany
21st – Köln, Germany
22nd – Dortmund, Germany
23rd – Bamberg, Germany
24th – Passau, Germany
25th – München, Germany  
27th – Poznan, Poland
29th – Erfurt, Germany
September 2008:
6th – Geneva, Switzerland
7th – Luzern, Switzerland (two concerts)
11th – Magdeburg, Germany
12th – Wetzlar, Germany
13th – Hamburg, Germany
14th – Stuttgart, Germany

November 2008:
8th – Bern, Switzerland