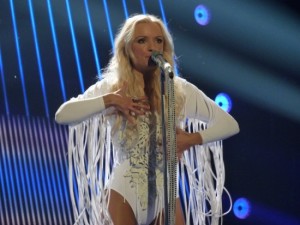 Yesterday Ditte Marie, Danish national finalist from the past two years, announced that she is leaving her band Le Freak in order to be able to put all her energy into her solo career. The band continues as they got their former leadsinger to come back.
In 2011 she came third in the Danish national final together with her band Le Freak singing the Thomas G:son written song 25 Hours A Day. In 2012 she tried again, this time solo, with the song Overflow, which was also written by Swedish songwriters. Now, Ditte Marie has decided that it is her solo career, that should have her attention in the future. On the 8th of September she will play her last concert with the band. 
Both Ditte Marie and the band announced yesterday the break-up. Ditte Marie says: "I have, after 5 fantastic years in Le Freak, chosen to seek new challenges. It has been an unforgettable trip and I would like to thank everyone who has been a part of this. Thanks for the music, the magic and the people in between. I am looking forward to open my eyes and ears to new music adventures".
Le Freak existed long before Ditte Marie joined them – and will also continue to exist afterwards. They confirmed that their former lead singer Kirstine Dollerup is returning, after she left in 2007: "It is with a thank you and a little sadness that Le Freak says goodbye to Ditte Marie and with joy and expectations that we say welcome home to Kirstine".
Below you can see first her solo song, Overflow, from the 2012 Dansk Melodi Grand Prix, but also Le Freak's 2011 entry 25 Hours A Day.