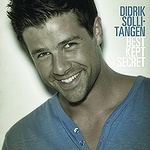 Despite what couldn't have been anything but a disappointing result for Didrik Solli Tangen, the Norwegian representative at this year's contest, he appears to have taken the defeat on the chin, turning the whole experience into something positive.
Many in Norway were writing off Didrik as a one hit wonder, saying that his star had already faded even before the end of Eurovision final week in Oslo. Didrik has characteristically remained quite reticent in response to his critics.
Unlike a lot of artists who have previously participated in the Melodi Grand Prix, Didrik has had solid musical training at the Barratt Due Insitute in Oslo, where he came to know Alexander Rybak, no less. He remained a completely unknown artist, but managed to pull in the crowds on a mini tour of the USA in 2009 with two other singers, performing to packed venues in Washington DC and Chicago. He then came from out of nowhere in 2010 and I think it's safe to say that he dumbfounded everyone by the extent of his win in the national final. Following his appearance in 2010 contest, he managed to stay in the public eye by being one of the headlining acts on the massive VG Topp 20 open air concert less than a month later. He also joined them on a nationwide tour, performing for crowds of 10,000 or more spectators in 4 cities and even resulting in the unlikely combination of Didrik playing alongside heavy metal band Keep Of Kalessin (see the link below).
He further managed to remain in the public eye when appearing for three nights in june-july at the National Opera, playing Elvis in the production Let It Rock. He also has a seeminlgy hectic autumn in store, with his follow up single due for release on the 3rd September. Entitled Best Kept Secret, it has indeed been succesfully kept under wraps thusfar. With the debut album also just around the corner, every bit of publicity helps, and no doubt he will receive considerable media exposure when performing at the Norwegian Melodi Grand Prix Jr. final on the 4th September. Much of the autumn will, needless to say, probably be committed to promoting his new album – stay tuned for a review, as soon as it's released!
Links