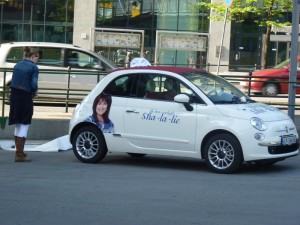 Last year the Dutch participants arrived in a big hummer limousine. This year they are doing things differently as you can see in the picture. This car is parked outside our hotel. Yes, I am haunted by that song! And unfortunately it is getting to me as I now find myself singing a long to it.
The day started with more questions about the situation with Chanée & N'evergreen. Everyone talks about that ultra short press conference of just 5 minutes where Thomas simply scared everyone. It is a bit embarrassing being Danish these days. We had a good chance of winning the whole thing, but they are basically throwing it all away themselves. My guess is that Christina and Thomas actually feel left rather alone by DR. The Danish delegation (DR) haven't arrived yet and there is no one to help them handle the press. It also brings the Danish duo in that unfortunate situation that they don't have someone with experience to gain support from, no one to talk to etc. Denmark has a new HoP this year and she is arriving Monday from what I've heard. That is simply way too late. When it was clear after the first rehearsal that they had quite a challenge ahead of them DR should immediately have reacted and sent their people up here. They didn't and instead Thomas let his frustrations out on that now famous press conference.
I had the chance to watch more rehearsals and I was in particular focusing on the five automatically qualified countries as they had their first rehearsal yesterday. In particular the Norwegian rehearsal was quite an experience. I simply ended up with tears in my eyes already after the first run through. Now, it is very rare that a song affects me like that so I was surprised at my own reaction. I was very pleased that, a friend, I have gotten a lot closer to these days, were there to lend me a shoulder. Thank you, you know who you are!
Later in the evening we went to the Greek/Cypriot party although it was more of a Greek thing only. No Cypriot flags, no posters or promotion material. When the Cypriot participant arrived he was walking a bit around on his own, but no one took any notice of him while big TV cameras were also focusing on the Greek ones. The French arrived later and they got the same big attention. Poor Jon Lilygren. No one can blame him for leaving early from his "own" party where he didn't feel welcome.
Last night I got once again reminded of how it is to be 14 years old. The past couple of days I feel like I have been competing with another girl for the attention of a boy. I like this boy a lot and it is directly painful to see this other girl putting his claws in him like I saw last night. It goes straight to my heart and it hurts, which is the reason I now choose to look the other way. I don't want to fight for his friendship, that is ridiculous in my age and I don't want to put myself through this either. I care for him, but I think it is best to look away whenever she is near him. But God, why do this even happen? Isn't it a part of being adult that you are free of these teenage problems? Apparently not.
I have several times caught this boy in looking at a competitor's website so I have no idea if he will read this, but if he do then I want him to come and get the hug I want to give him.
Anyway, tonight is the welcome reception and I am fearing a bit for my look! I have bought a new short dress to wear, but I fell in the shower and have a big blue and purple mark om my thigh. Not only do I have a bit of problems walking due to it, but is the dress long enough to cover that mark? I don't know. Time will tell if I can wear it or have to go for a longer dress.