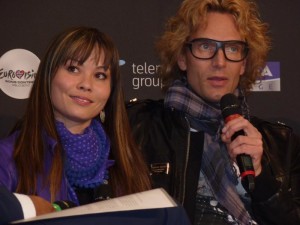 Yesterday, day 4, was equal to the last semi-finalists rehearsing for the first time. One of those were the Netherlands and though Sieneke do appear to be a sweet girl then the song is really not my cup of tea. Unfortunately there is somene here in the press centre who thinks otherwise!
The Netherlands were the first to start rehearsing yesterday, but the song kept playing all day here in the press centre. Another journalist can't stop playing it on his computer so every fifth minute yesterday we would hear Sha la lie. I wasn't the only one to be annoyed. The Dutch song simply doesn't appear to Eurovision journalists. My boyfriend is Dutch and whenever he meets new people here then they all reply with a "Oh, I am so sorry…" when they hear what his native country is. He however isn't in love with the song either so he replies: "Oh, I know. So am I."
I had to clear some misunderstandings again yesterday regarding Chanée & N'evergreen being a couple. Aparantly some journalists just won't get it right.
Anyway, I am proud to say that I aparantly saved the life of a British journalist, who is one of those friends I see once a year. At our hotel there is a skybar with a great view over Oslo. This poor Brit had been following his friends up there not knowing that it was located on 34th floor. As he is afraid of heights he was quite a mess when he came down and happens to run into me outside the hotel. He was shaking, the heart beating very fast – and really, if you had seen him you would have been close to calling an ambulance. I offered him a cigarette and though he hadn't smoked for the past 20 years he gladly accepted and probably smoked quite a lot deeper than ever before. When I met him the next morning I was being thanked for saving his life! That cigarette had been just what he needed to get his heart under control.
Yes, I know smoking is bad for ones health, but this time it was quite handy. Btw. we are staying on 22nd floor, but I am not afraid of heights so I am actually able to enjoy the view 🙂