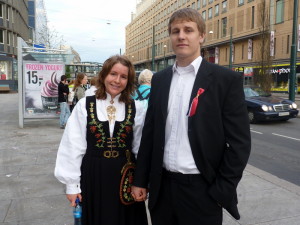 You won't believe it, but we actually had a nice sunny day weather wise yesterday. Unfortunately there are no indications of it continuing, but who knows what prayers can do. The weather was a nice bonus on a day that, to most people, had very few highlights.
First of all let's gratulate the Norwegians on their national day. The 17th of May is to most of them quite a special day. Women were dressed in long national dresses and men wearing a nice dark suit often with some kind of Norwegian prop to it. It would have been nice had we at the press centre also had the day off – just as the Norwegians did, but no. We had to wait until the evening to see the left overs of the day events. It was however noticeable in the press centre that also here people were dressed a little bit better than Sunday. The amount of men in a suit was significantly higher than the day before – but it also has to be added that the general level appears higher than previous years. 
That the last half of the second semi-final doesn't have much to offer is what most seems to agree on. It was heard all over the press centre that there was just two songs to care about that day. Belgium and Iceland were those two. Journalists are not always right – yes, it happens that they are totally wrong in their predictions – so who knows how it will actually end up.
The Icelandic press conference did however win the prize for the most entertaining press conference of the day, if there were such a one. It wasn't completely out of place when the host called it a sing star event. He asked a question and immediately the Icelandics turned it in to singing. It was rather expected that Hera would sing Someday, her song for the Danish national final last year. This song is extremely popular among the fans so it of course had to come up. The most interesting part of the press conference was however a little stunt they had prepared which included the press who had turned up. Hera and her backings sang three previous Icelandic Eurovision entries – but only the backing tracks. It was then up to the press to sing the lead vocals. Surprisingly enough this worked out very well, in particular on Is It True which Johanna sang to second place in Moscow last year. That many journalists are also fans was clearly shown there… strangely enough then many of us – myself included – is guilty of not having realised that one of the Icelandic backing singers Kristján Gíslason actually participated for Iceland back in 2001 as one half of TwoTrickey. When that was announced at the press conference many of us actually wondered how we could have missed that, but it just shows very clearly that once we know an artist name we focus all on that and the backing singers are just… in the background.