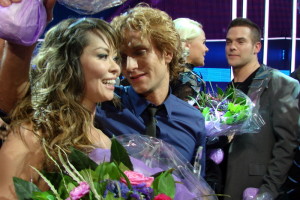 Tomas and Christina had their first shot at signing on the 2010 Eurovision stage this afternoon. The whole stage shows looks fantastic but there are a few problems that need sorting.
The song sounds great in the arena and the vocals sound good there too, but on tv it's a different story. Tomas is out of tune and Christina is singing too deeply. That was the case for all the run throughs.
I thinkn the delegation aren't yet aware of how it's sounding on screen as they're only hearing it in the hall. Once they look at the video they'll be able to make the necessary changes.
The stage show is understated and it looks fantastic. The background is blue but changes to gold/yellow at the crescendo. The whole thing looks quite like the Danish national final with a couple of additions. Both of them are on platforms that move sideways and then they walk towards each other before going to the catwalk. They end the song there with a steadicam and crane shot.
All hope is not lost, in fact, I think this is a possible winner. They just need to improve the vocals.