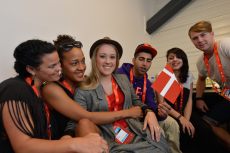 The final rehearsal today was Denmark's.  Some change had been made to the stage show from the one we saw several days ago.  And it has improved.
Soluna and her support performers had been moved closer together for ths rehearsal.  It gives the staging a better atmosphere as we can see how they interact far better.  Soluna starts the song under a spotlight under a predominently dark stage.  As the song builds, it gets lighter. The backdrops are landscapes – prairies and clouds at sunset.  For the last chorus she is backed by Chinese lanterns that float towards the sky.
Soluna was wearing a black top and black & white striped trousers.  We're not sure whether she will be wearing these clothes next week. Her band were all dressed very individually and this seemed to fit the mood of the song.
The press watching were very impressed with how this song now looks.  We can expect good things from this song next week.
Eurovisionary has shot 3D footage of this second rehearsal. Watch it below: