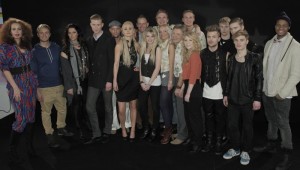 This morning DR released 30 seconds clips of all 10 songs fighting to represent Denmark at the 2011 Eurovision Song Contest. In the afternoon the first two songs was aired in full in a radio programme, which will all through the week release two songs each day until we on Friday, the day before the Danish final, have heard all ten songs.
This slow release of the songs helps build up the tension for the Dansk Melodi Grand Prix final, that will be held live from Ballerup Super Arena, on Saturday. Unfortunately it also makes it more difficult to pick your favourites in advance. If you are fast you can however listen to all the songs as often as you want to from Friday where the official CD with all ten songs will be released.
As song nr. 10 have won the Danish final 5 out of the past 10 years a lot of extra focus is on A Friend In London, who have been allocated exactly that starting position. Nordicbet believe most in Sine Vig and Anna Noa to take the victory, but it has to be mentioned that they haven't heard the songs and is basing it entirely on singer, title, songwriter, running order etc. 
The running order:
Song nr. 1: Anne Noa – Sleepless
Song nr. 2: Jenny Berggren – Let Your Heart Be Mine
Song nr. 3: Jeffrey – Drømmen
Song nr. 4: Le Freak – 25 Hours A Day
Song nr. 5: Sine Vig – You'll Get Me Through
Song nr. 6: Stine Kinck – Hvad hjertet lever af
Song nr. 7: Lee Hutton – Hollywood Girl
Song nr. 8: Christopher Brandt – Emma
Song nr. 9: Kat & Justin Hopkins – Black and Blue
Song nr. 10: A Friend in London – New Tomorrow 
As usual a jury will have 50% to say in, which of these ten songs make it to the next stage where the TV viewers takes over and decide 100% via SMS who of them will be representing Denmark at the 2011 Eurovision Song Contest. The jury is: pianoplayer and composer Bent Fabricius-Bjerre, DJ and radio host Le Gammeltoft, singer and songwriter Erann DD, singer and composer Karen Rosenberg and singer and composer Martin Brygmann.
Listen to 30 seconds clips from all ten songs
. One of thses will go on to represent the country in Düsseldorf in May where they will try to bring back the trophy to Denmark after
Chanée & N'evergreen
finished 4th last year with the song
In A Moment Like This
.