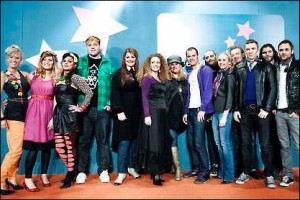 The Danish final songs are normally made public when performed for the first time in the show, but the new format this year means that the songs will be available before the show via radio and internet plus an earlier release of the official CD.
The new format in the Danish final with three rounds in one show results in a shorter voting time than normal in a Dansk Melodi Grand Prix. To ensure that the public have enough time to make up their minds about the songs DR will be releasing them in advance. This is common in various other countries, but it is new for a Danish final where the songs are normally being heard for the very first time when performed in the live show.
The 10 songs competing to represent Denmark at the 2009 Eurovision Song Contest will be aired in radio shows from the 26th to the 29th of January. The 2-3 songs for each day will be made available on the internet the same days as aired in the radio program. On Friday the 30th of January, the day before the final, the official CD with all the songs for the 2009 Dansk Melodi Grand Prix will be released.
Buy Dansk Melodi Grand Prix 2006
Buy Dansk Melodi Grand Prix 2007
Buy Dansk Melodi Grand Prix 2008
Links