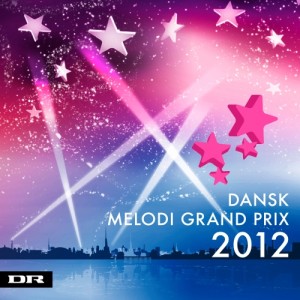 Last weekend Denmark held its national final, the Dansk Melodi Grand Prix, and now the participants are invading the charts. The official album as well as the top 3 placed artists are to be found on the official charts – Soluna Samay as the winner is naturally the highest placed of them. 
On the Album top40, which covers all physical CD's sold, the official album with all 9 participants plus the disqualified song nr. 2, went straight into a 4th place. This album includes the official versions as well as karaoke versions of the 10 songs.
On the same list we also find a compilation album by Flemming Bamse Jørgensen, who represented Denmark at the 1980 Eurovision Song Contest with the song Tænker Altid På Dig, and died on New Years Night a year ago. 
When we go to the Track top40, the official single charts, the three top placed songs from the 2012 Dansk Melodi Grand Prix are all to be found there. As second most sold single we find the winner Soluna Samay and her entry, Should've Known Better, which will represent Denmark at the Eurovision Song Contest in May in Azerbaijan. Runner up Jesper Nohrstedt went into the single chart as #4 with his song Take Our Hearts. Third placed Christian Brøns and Patrik Isaksson in located as number 12 with their song Venter. On the same list we still find Rasmus Seebach with his cover of his dad's (Tommy Seebach) 1993 Eurovision Song Contest entry Under Stjernerne På Himlen. That song is currently #38 on the chart with a total of 13 weeks, but it has to be added that on the same single chart Rasmus also has two more songs. 
On the Bit album top20, which is official albums bought as download, we find the album with all the songs from Dansk Melodi Grand Prix as the highest selling album. On the same list we find Christian Brøns' new album Under Overfladen (Under the surface) as #9. That album is newly released and includes his Dansk Melodi Grand Prix entry Venter. Just below that, as #10, Soluna Samay's album Sing Out Loud is to be found. This album was released in September 2011 and does not include her winning song, but has not previously made it to the charts. on this chart we also find Rasmus Seebach's album Mer' End Kærlighed, which includes his cover of Under Stjernerne På Himlen as #3 – later down the list his first self-titled album is still on the list with a total of 95 weeks now. This week it is there as number 8. Sanne Salomonsen, who participated in Melodifestivalen in 2005, has her latest album Tiden Brænder listed as #16 with 10 weeks so far on the list.