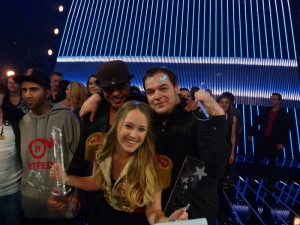 It was a genuine happy, allmost in seventh heaven, 21 year young Soluna Samay, who made her entry at the press room after winning the Dansk Melodi Grand Prix 2012. EuroVisionary bring you her reactions as well as comments from some of the other participants.

Soluna Samay really couldn't understand that she, a street musician two months ago, now was standing with the trophy and a ticket to the Eurovision Song Contest in Baku in her hand. And she was so greatfull to the people of Denmark for voting her to victory, after only being placed as runner up after both the international and the Danish jury.
Solunas parents couldn't be with her in Aalborg, but they had followed the show, and when she talked with them shortly after the result was clear, they where crying of both happiness and pride.
Soluna said that the years as a street musician had giving her a kind of safetynes, which did that she feld quite calm on stage and that she was sure it would be the same in Baku. With her broad background she has been to many countries, but she said that she was looking forward to visit Azerbaijan, one of few countries she has not been to. When asked if she planned to lean some Russian before going there, she answered that she might do that, but that that it had not crossed her mind, as in the first place her goal was just to get into the final round, a top placement. 
Soluna expressed great gratitude to her songwriters Cheif 1, Remée and Isam B for chosing her to sing their song, and that she sang it from the heart. About her future noting is really planed yet. She has just raleased an album, but she might realse some more material in the near future, as she besides singing also writes music herself.
About her outfit, Soluna said that the navy cap was a gift from an old friend from when she played on the streets.  
We were also able to get some answers from two of the songwriters; Remée and Chief 1. They both expresed great happiness over winning the final and as Chief 1 said then even though he and Remee and Isam B do have a long and very succesful career behind them, it's really not that easy to sit down and write a song that is so good that it can win such a show. He did say though that they where sure that they had to do there best, their names where not enough. All the way though the creative process, they followed their first instinct of what was right to do.
Chief 1 also said that their song was something new in the Dansk Melodi Gand Prix as it was more in the style of what is popular right now. He felt that they had made an effort to bring the Danish final safe into the future. He was not looking down on the old songs, but felt that it was time to attract a new and younger audience.
As a journalist compared Soluna to the Danish tennis player Caroline Wozniacki, who is number one on the world ranking, but haven't yet managed to win a Grand Slam tournament, she was unsure what to say about that. They are both young, have long blonde hair and a foreign background. Songwriter Chief 1 stepped in adding that "Soluna is more agreesive than Wozniacki".  
After a well deserved glas of champagne to the winners, it was down to the afterparty where Soluna Samay performed her song again – with Chief 1 as DJ.
At the after party we were able to get hold of some of the participants and 2009 Eurovision Song Contest winner, Alexander Rybak, who performed as a guest star in the show and also were in funtion as the spokesperson for the Norwegian jury last night, just for a few questions.

Aya, who failed to reach the final round, expressed that she might come back to Melodi Grand Prix another time should the right song pop up – it might even be one of her own ones. She felt that she never really was able to get the audience behind her when she was performing, but besides that, she was pleased with being a part of the great show.
With a big smile on his face Patrik Issksson was certain that him and Christian Brøns would make more music together in the future and that they might try again at Dansk Melodi Grand Prix or in the Swedish selection, Melodifeativalen.
Alexander Rybak said to us that if he would most probably enter the selection for the Eurovision song Contest again, but not as a singer. It would be as a composer who would be playing piano, guitar or the violin on stage supporting the singer.
Soluna Samay will now be representing Denmark at the 2012 Eurovision Song Contest with the song Shoould've Known Better. The song is written by Remée, Cheif 1 and Isam B. The first two have tried it before as Remée wrote the 2008 German entry Disappear sang by No Angels and Cheif 1 wrote the 1997 Danish entry Stemmen I mit Liv, which Kølig Kaj performed at the Eurovision Song Contest.