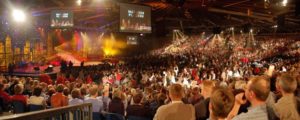 Today DR announced that the Jutland city Herning will be hosting the 2009 Danish final. It will be more than just a final as the city will offer various Grand Prix entertainment in the days before. Ticket sale for the final will start on December 3rd.
For the 2009 Danish final DR, Danish broadcaster dropped the format with two semi-finals. As they waited so long announcing a host city for the final most fans believed that it would be a small final in a TV studio with only a few hundred live audience. By announcing Herning as "Grand Prix city 2009" DR has surprised most Danish fans in a positive way.
The "Grand Prix city" status is a way to emphasize that it is the whole city that is involved and not just MCH Messecenter Herning that will be hosting the Danish final. Exactly how it will be we don't know yet, but DR expects that their will be various events like concerts and other festivities that will show that it is more than just a Saturday evening show, but a big public party that takes place over several days and ends with the big final on 31st of January 2009. Both DR's TV channel and their Radio channel will follow these events quite closely making sure that not only people in Herning will experience this public party.
Ticket sale for the final in Messecenter Herning will start on 3rd of December and it is expected that there will be 2400 tickets up for sale at billetlugen.dk. Herning was also host of the 2001 Danish final where Rollo & King won and secured Denmark a 2nd place on home field in Copenhagen.