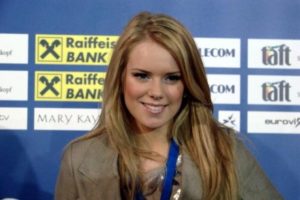 DR has published the Danish jury votes which show quite some difference from the televoting. The jury awarded Iceland with the 12 points and countries like Estonia and Russia also did better with the jury than the televoting.
The Danish jury consisted of singer Kaya Brüel, the rapper Ataf Khawaja, the musician Frede Fup, the singer Medina and songwriter Peter Biker. Their joint points have now been published and it is clear that they didn't agree much with the TV viewers who voted. Iceland received 12 points from the jury and Norway 10. In the combined jury and televote these two countries were swapped around, but so far there is not much difference. The biggest differences however come further down the list.
Estonia who got 8 points from the jury, but only 5 in the combined one indicating that it didn't score that well in the televoting. France got 6 points from the jury and only 2 in the combined, which clearly shows that the Danish jury liked Patricia Kaas better than the TV viewers did. The same thing counts for Sasha Son who scored 5 points from the jury and only one in the combined.  The biggest surprise comes with the jury awarding home country Russia with three points. In the combined one Russia doesn't get any points from Denmark.
Even though Sweden didn't have any points at all for Brinck and his Believe Again the Danes still awarded the neighbour country with 4 points. As none of them comes from the jury it is very likely that Malena Ernman scored even higher in the televoting alone. Turkey did well with televoting as well as they got 6 points in the combined voting, but none of them came from the jury.
The complete Danish jury points as well as the combined televoting can be seen below:
| | | | | |
| --- | --- | --- | --- | --- |
| Points from jury: | Country: |   | Combined points | Country: |
| 12 | Iceland |   | 12 | Norway |
| 10 | Norway |   | 10 | Iceland |
| 8 | Estonia |   | 8 | Azerbaijan |
| 7 | Germany |   | 7 | Germany |
| 6 | France |   | 6 | Turkey |
| 5 | Lithuania |   | 5 | Estonia |
| 4 | Azerbaijan |   | 4 | Sweden |
| 3 | Russia |   | 3 | United Kingdom |
| 2 | Portugal |   | 2 | France |
| 1 | United Kingdom |   | 1 | Lithuania |