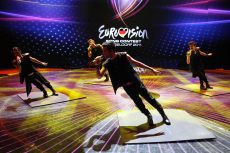 Day three of rehearsals ended with one of the most dramatic performances so far.  Cyprus has put a lot of thought into their stage show, and it didn't fail to impress.  In terms of staging, it was a complete contrast to their song 12 months ago.
Breaking the long run of songs in English, Cyprus opted for a dark ethnic ballad in Greek.  It was really well co-ordinated, and turned it into another possible qualifier for 14 May.
Christos wwas aided on stage by four dancers.  They were in costume: black with silver trim.  They performed dance moves while in boots that were fastened to large boards.  This enabled them to lean every way to impossible angles.  Behind them was a back drop of large white balloons that swayed left and right in time to Christos and his friends.  At the end of the catwalk we have our sixth performer.  A girl in a long black dress wrapped in coils of rope provides the wailing that gives this song a very haunting quality.  During the song she swings around a ball wrapped in rope, which she casts off towards the end of the song.  The look is completed by swathes of dry ice.
This is sufficiently different from all before it to qualify with ease next week.  However, Christos is in black with male dancers, much like the Swedish song immediately before it.  We're all now eagerly awaiting Saturday's second rehearsal.