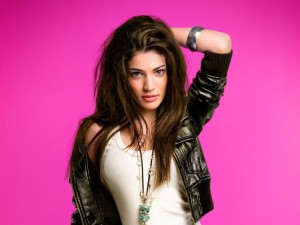 Cyprus is the first country who decides on their representative name for the 2012 Eurovision Song Contest. 17 years old talent Ivi Adamou will represent the Mediterranean island next year in Baku.
The young singer, Ivi Adamou, who was a shining star in the Greek X Factor, is internally selected by the Cypriot national broadcaster CyBC to represent their country at the Eurovision Song Contest next year. With this result, Cyprus is the first country who picks the representative name for the contest which will be held in Baku next year.
Although a date has not been confirmed yet by the broadcaster, official procedure shows that Ivi Adamou will present three songs in a national final where jury and televoters will decide on the act to represent them in Baku.
Ivi Adamou was born on 1993 in Famagusta, Cyprus. She took part in the second season of Greek X Factor in 2009 – 2010 season where her career stepped into a new adventure. She ended the contest with 6th placing, she was now a shining star.
Ivi has already released six singles and one studio album with success. She remained in the top 5 at Greek Airplay Chart for 20 weeks and more than 60,000 songs have been downloaded legally. She has been working for the well known music company Sony Music Greece since 2009.
Singles :
 A*G*A*P*I* (Crashing Down)
Sose Me (Lights On)
San Erthi I Mera (Stavento feat. Ivi Adamou)
To Mistiko Mou Na Vreis (I Can't Help It)
Krata Ta Matia Sou Kleista (Melisses Feat. Ivi Adamou)
Kano Mia Euxi
Album :
You can watch the official videos of A*G*A*P*I*, Sose Me, Kano Mia Euxi and San Ena Oniro via Ivi Adamou's official channel on youtube.
Links