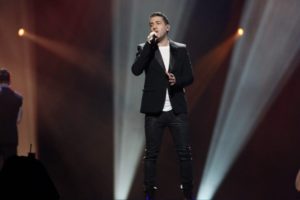 Serbia had their second rehearsal this Friday. It went very well and some people even think 2012 will be the year Željko Joksimovic finally wins.
There's
a lot on pressure on Željko Joksimovic's shoulders. He came second in 2004, and songs
written by him came third and sixth in 2006 and 2008 respectively. Friday he
had his second rehearsal for his 2012 attempt to win the contest. The song and
atmosphere this year are very much the same as previously – will 2012 be the
year when Serbia takes the Eurovision trophy for the second time?
Since their first rehearsal a few days ago things has been adjusted quite a bit. Most notable the background has become much darker in the beginning of the song. Towards the end of the performance it turns to a dark cloudy sky. It underlines the drama you hear in the song and it creates a very strong and dramatic atmosphere.  
Željko and his ad hoc orchestra were all wearing dark clothes as well. Whether that will be their final outfit for next week's semi final or not is still unknown.
As expected, the vocal performance by Željko himself was very strong, and most of the journalists and fans in Baku, who witnessed the rehearsal, agree that Serbia is a sure qualifier to the grand final Saturday night.
You can watch the rehearsal and the Serbian team backstage in this video: