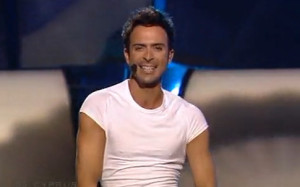 Constantinos Christoforou has represented Cyprus three times at the Eurovision Song Contest and now he will try again but this time not for his home country. He has applied unexpectedly for the Swiss national selection with the song I Still Remember.
He represented Cyprus at the Eurovision Song Contest for the first time in 1996 with the song Mono Gia Mas (Only For Us) and he came back in 2002 as one of the members of the boy band One reaching the sixth place with Gimme. He left the group in 2003 to reprise his solo career returning to his musical roots and, in 2005 he waved the Cypriot flag again singing Ela Ela. But that was not enough for him, and he attempted to represent his country also in 2010.
Constantinos does not give up and that is why he has presented his application to this year's Swiss national selection. His electronic-based song, I Still Remember, composed by Nikos Mouzakitis and Antonis Kaitatzidis has been uploaded today to the official broadcaster's website according to the submission rules. It has a well-crafted dance tune, simple and effective, that can take you to the dance floor but at the same time this can be tiresome. Vocals are decent and lyrics are catchy enough but not anything particularly special.
If he is among the lucky ones to proceed to the national final he would probably compete against no less than Lys Assia who is also in the race to achieve the Swiss ticket to Malmö. So far, there are twenty artists that have uploaded their candidate songs to the SF's website but the Swiss selection still might hold many surprises since the deadline for submitting entries is open until the 1st of October.