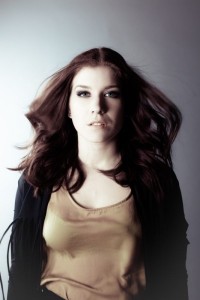 Our first full day of rehearsals today concluded with Pernilla Karlsson taking to the stage.  Would we see a Eurovision final without Finland.
Pernilla had been waiting a while due to the delays that had plagued the first day of rehearsal.  But she was dressed in what is likely to be the costume for the semi-final next Tuesday.  It consists of a short jade green dress that has a train of matching green fabric behind it.  She also wore a black jumper.  The train comes into play when we see one of the first appearances of a wind machine.
Pernilla is joined on stage by a single cellist – no backing singers for this song.  There is also no dancer that we saw in the national final.
The background has a water theme about it.  It appears to be jets of water exploding with the droplets falling in slow motion.  It is very effective.
This still seems to be in the category of borderline qualifier.  It's been kept simple which helps, so we could see Pernilla on the stage for the final.  As ever, we'll keep you posted on developments when she has her second rehearsal later this week.