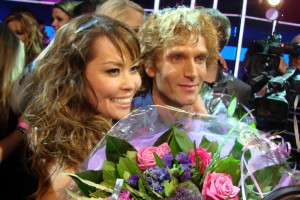 The Danish duo that came 4th in this year's Eurovision Song Contest in Oslo has recorded a Christmas song that is to be found on an album with both Danish and foreign songs about the upcoming celebration. Several Eurovision participants are included on the album.
The album called Eldorado Jul includes Christmas songs from the two Danish Eurovision Song Contest winners Grethe & Jørgen Engmann and the Olsen Brothers as well as songs from Tommy Seebach, Cliff Richard, Olivia Newton-John as well as Danish commentator and host on Dansk Melodi Grand Prix for decades Jørgen De Mylius and the 2001 Eurovision Song Contest host Natasja Crone Back.
And then it includes a newly recorded song by this year's Danish representatives Chanée & N'evergreen that ended fourth in Oslo with their In A Moment Like This. This Christmas song titled Coming Home For Christmas is only to be found on this album.
The album includes 38 songs on two CD's.