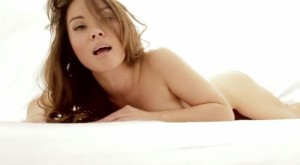 Christina Chanée, one half of the duo that finished 4th representing Denmark in the Eurovision Song Contest in 2010, has released a new solo single. While she appeared innocent singing In A Moment Like This she is everything but that on Fallen. 
Chanée & N'evergreen was put together as a duo up until the participation in the Danish final in 2010. None of them was well known in Denmark, but Thomas N'evergreen had previously taking part in the national final in Russia, where he lived. Despite the success with the Swedish written song In A Moment Like This that won Dansk Melodi Grand Prix and finished 4th at the Eurovision Song Contest held in Oslo it was clear almost from the beginning that their musically partnership wouldn't last long. 
Back then Christina Chanée (or just simply Chanée) came across as a young innocent girl always smiling. The smile is still there and she is only two years older, but the innocent image she has certainly last on her new single Fallen. In the video to the song she is naked and cover parts of herself with blood to show the illusion of her bleading heart. 
The single that was released a few days ago is for sale on Itunes and the video can be seen below: