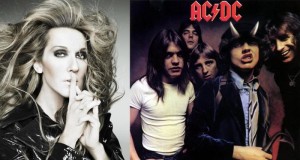 The music magazine, Total Guitar, have announced their top 20's with the worst and the best cover songs ever made. Celine Dion's version of AC/DC's You Shook Me All Night Long has been awarded as the worst ever with a plea to stick to sinking ships!
The British magazine have published the full top 20 in both categories in the latest edition of their magazine while they only publish the top 5 on the website. From these ten songs Celine Dion is the only Eurovision Song Contest participant represented, but unfortunately it is in the category of the worst covers. Her version of You Shook Me All Night Long was performed at a Las Vegas concert in 2002 and Total Guitar writes "it made us puke all night long" and adds that she should stick to sinking ships!
If Celine Dion's version really is that bad you can judge for yourself via the Youtube video below where you can also hear AC/DC's original version.
Links
Total Guitar's worst cover songs
Total Guitar's best cover songs