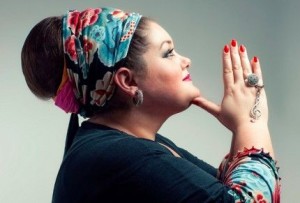 The Serbian national final of this year has come to an end. In the second edition of Obrojavanje Do Beca, Bojana Stamenov singing the song Ceo Svet Je Moj (The Whole World Is Mine) has been chosen among 3 songs to represent the country in Vienna.
After a year absence, Serbia returns to the Eurovision Song Contest with the song Ceo Svet Je Moj (The Whole World Is Mine). The participant song has been chosen via jury votes and tele-voting (50:50).
All of the 3 song in tonight's national final were composed by Vladimir Graic who was also the writer of the 2007 winner for Serbia Molitva. In the first part of the show last night, RTS, the Serbian broadcaster, introduced the contestants and decided the running order of tonight's final.
The show started with us being reminded of former entries from Serbia from Lane Moje (2004) to Ljubav Je Svuda (2013). And the representer told the audience the system of the national final before the show.

The songs
1. Aleksa Jelic – Vodi Me (Carry Me)
It was a simple pop song. With a dance style similar to what we have seen form Eric Saade, who represented Sweden in 2011. Aleksa had four dancers dressed in black with him on stage.
2. Danica Krstic – Suze Za Kraj (Tears For The End)
A strong balled performed with a strong voice even though she is only 17 years old. She looked beautiful in her blue dress. The dancers, wearing white, were amazing and impressive.
3. Bojana Stamenov – Ceo Svet Je Moj (The Whole World Is Mine)
Bojana is more accustomed to Jazz music, and today's song was quite different. With her red dress, she reminded of Ciara's (Malta 1998, 2005, 2009) Eurovision Song Contest performance from 2005.
The show
The televoting period was 15 minutes, just as at Eurovision. During the televoting window, they showed a video which introduces Vienna with a Karaoke version of Rise Like A Phoenix. After that, contestants performed their songs again. When taking stage again, the presenter had a little conversation with Vladimir Graic the composer of all the participating songs. He summed up the songs. The televoting period ended while Vladimir Graic and the representer were talking.
After considering the songs, Moje 3 performed Molitva and Andrea Demirovic, who represented Montenegro in 2009, took the stage.