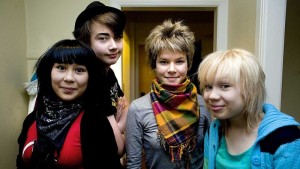 The young Sámi band from Northern Norway, BlackSheeps, who came 2nd in this year's Melodi Grand Prix with Dance Tonight as well as winning the Melodi Grand Prix Nordic contest in 2008 with Oro Jaska, Beana, have ended up in a fierce legal battle.
The twist arose as both past and present members of the band are unable to reach an agreement concerning the right to use the band name as well as lost income from concerts. The original line up consisted of Alexander Touryguin, Agnete Kristin Johnsen, Viktoria Eriksen and Emilie Nilsen. Last year saw the departure of Eriksen and Touryguin from the group, being replaced by Nikolaj Gloppen and Simon Stenvoll Pedersen.
Both parties have been engaged in negotiations prior to the court case, but unfortunately the negotiations proved unsuccesfull. There also appears to be some unclarity surrounding the change in the band's line up, with the two former members claiming they were kicked out of the group, whereas the remaining members claim that it was rather a result of as severe lack of motivation from the two which led to the split.
The court case has been a strain for all involved and all involved are expected to meet tomorrow and Wednesday at Inner Finnmark County Courts